By Chris Stonor
Fruity Chutes has released an update for the Sentinel Automatic Trigger System (SATS-MINI), a safety device that detects when a UAV fails and then triggers the parachute to deploy, reports a press release.
The release says, "Unlike other automatic trigger systems (ATS) that are only made for multi-copter applications, the SATS-MINI update adds support for fixed-wing and VTOL operations. In addition, the failure detection algorithm has customisable parameters that can be optimised for the user's particular craft."
This update marks the one-year anniversary since Fruity Chutes soft-launched the product for select distribution, testing and refinement. Ten UAV companies have begun integrating the device into their aircraft systems. Additionally, the device works well with the Skycat Rescue Radio Receiver, which can be installed into the SATS-MINI.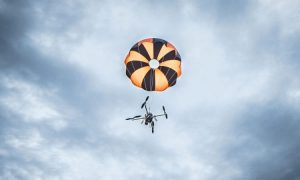 While other ATS use only one or two methods of failure detection, the SATS-MINI "offers six methods, including free fall, rotation and absolute angle rotation. Highly configurable and flexible, the system follows the user's custom parameters."
In addition, "two separate sets of trigger settings are provided that can be selected between while in flight. If the vehicle loses altitude too quickly, flips, fails to maintain a specified angle relative to the ground or exhibits other deviations from the user's specified flight envelope parameters, the parachute will deploy."
Another updated feature includes new configurable black box logging parameters. The black box records flights with a real-time clock chip that provides the dates and timestamps of events. In the case of a failure, it records when and how the failure occurred, logging the flight pattern both before and after the event that caused the failure and parachute ejection.
With the 1.2.1 update, the logging features can now be configured to use logging space only in the event of parachute deployment, allowing over 50,000 flights to be recorded before using all of the log space. Current users can download the 1.2.1 update for free, and the SATS-MINI can be purchased for USD240.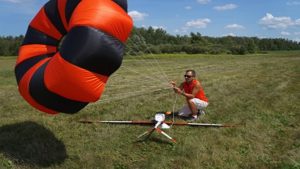 Footnote
The U.S-based Fruity Chutes is a manufacturer of premium quality parachutes covering many fields including Aerospace, Institutional and Corporate clients. The company's parachutes are used for all types of Rocketry, Unmanned Air Vehicles (UAV), Multirotor and Multicopter, Drones and RC Control Aircraft.
Visual presentation (from 7.15′)
https://www.youtube.com/watch?v=zCIhSrkl-vY
 For more information