By Chris Stonor
A major milestone for the UAM industry took place last week in the Italian city of Torino, reports a press release. The drone company, Flying Basket, performed the first urban area flight operation. This trial was in collaboration with Leonardo and Poste Italiane.
Two FB3 cargo drones, operated by Flying Basket, flew in total 100kg payloads from a Poste Italiane Centre in Torino and then across the Stura di Lanzo river. One drone with a cargo compartment and another with a sling payload carried 26 Kg each over a 3.9Km distance to the destination (total flight 7 Km). The sling payload with a cargo hook makes convenient delivery possible without the need for landing infrastructure whereas, the cargo compartment is designed to facilitate easier handling. The demonstration was a good example of BVLOS flights.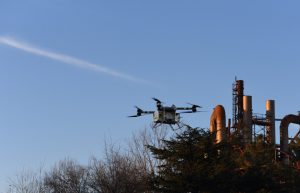 Moritz Moroder, CEO of Flying Basket, said, "The future of logistics lies with autonomous cargo transportation. This mission demonstrated the incredible potential of cargo drones in metropolitan areas."
He continued, "Today we transported 100kg with a single drone and in the future a fleet of autonomous drones will not only be able to keep up with rising logistics demand, but also increase flexibility and reduce delivery time."
FlyingBasket was "the first drone company in Europe" to receive confirmation for cross-border operations based on the Operational Authorisation granted by Italian aviation authority, ENAC.
Footnote 
Flying Basket is an Italian company based in Bolzano, Italy, specialising in the design, production and operation of cargo drones with up to 100kg payload capabilities. It has been carrying out commercial operations since last year. The company was founded in 2015 and since its inception has become a leader in this European market.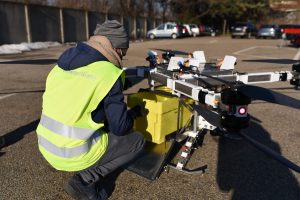 In addition to drone services, Flyingbasket offers regulatory support to its customers as well as training for drone license through its flight school, Flying Basket Academy.
For more information
https://www.leonardocompany.com/it/home