By Chris Stonor
It was announced this week that Raya Airways is to collaborate with Pen Aviation, a UAV (Unmanned Automated Vehicle) systems provider, to trial drone delivery in Malaysia, reports a press release. This marks a significant milestone for Raya, setting it on track to be the first Malaysian freight service provider in South East Asia to operate cargo drones. The tests will entail the utilisation of PEN55V, Pen Aviation's medium size cargo drone.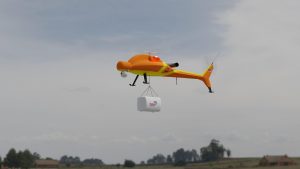 3D PEN55V Drone carrying Raya Airways Cargo Box, (© Cavok-UAS / Pen Aviation)
The objective for Raya Airways is to add a "Drone-As-a-Service" (DaaS) to its services by operating a mixed fleet of PEN55V and PEN1360V heavy size cargo UAV drones. The trials will specifically explore the deployment of such craft to facilitate logistics and distribution activities for goods at commercial ports.
Set to commence towards the end of 2021, the demonstrations will be carried out in accordance with the Civil Aviation Directive CAD 6011, a regulation by the Civil Aviation Authority of Malaysia which allows for the development of unmanned aircraft technologies. The drones are to be operated by certified operators to pick-up and drop off packages weighing up to 12kg, with a distance of up to 50km from containers on cargo ships to the port and vice versa.
Mohamad Najib Ishak
Mohamad Najib Ishak, Group Managing Director of Raya Airways, commented, "With increasing demand for efficient and cost-effective freight forwarding services, the trials are timely as it paves the way for Raya Airways to strengthen our position as a mid-mile provider and build future capabilities to serve Asia and the Asia Pacific region with a cargo drone fleet capable of flying up to 1,000kg of goods.
He continued, "Beyond port operations, we aim to introduce the usage of drones in the field of surveillance and maritime in the future."
Jean-Bernard Boura, MD of Pen Aviation, added, "Above and beyond our drone design and manufacturing with French Partner Cavok-UAS, the company provides new businesses with DigiMIND, Pen's unique digital platform automating complex business and operational processes."
Visual presentation
https://www.youtube.com/channel/UCb8yNiDAh_SCqIpeMvVEojw
For further information