By Chris Stonor
Manna Aero said this week that it aims to roll out its drone delivery business across Ireland within the next 18 months, reports the irishexaminer.com.
The Irish company is due to announce the next phase of its expansion into a large town of around 40,000 people, in the next few weeks, after a social media advertising campaign asking urban residents to pick their own particular town for the on-going trials.
Bobby Healy, founder and CEO of Manna, speaking this week at an event hosted by the Institute of International and European Affairs, said its operation in Oranmore, Co Galway, is a major boost for local small vendors from hardware stores and butchers, to mobile phone and coffee shops, as well as the town's Tesco supermarket, that began the trial.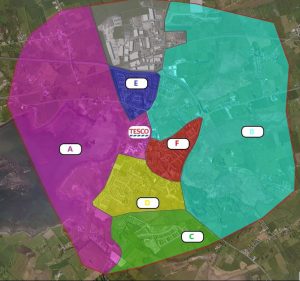 Oranmore Different Delivery Zones
Healy said that 30 percent of the town's 3,000 homes are now using his company's service. "More than half of the deliveries are for coffee and often people will add a croissant or scone to the order. That's new business that didn't exist before." He continued, "The coffee shops we deal with, two of them would be closed if not for drone deliveries."
Manna gets all kinds of orders from a head of broccoli and baby food, to scones and screwdrivers and have it drone delivered in under four minutes. Healy commented the company is offering businesses access to 50sqkm of potential customers within minutes and pointed out "this makes local business more viable and makes living in rural towns more attractive."
He predicted significant job losses for bike couriers but said drones will bring more jobs to the local businesses. Healy accepted there are legitimate public concerns over privacy, noise, jobs, safety, and wildlife, but moved to allay such fears. He then announced that Manna are looking to roll out is business across Ireland within the next 18 months.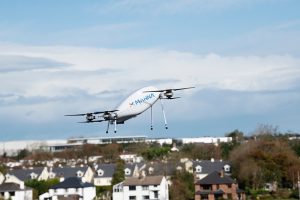 Visual presentation
https://www.youtube.com/watch?v=MdX2DhQQqy4
For more information
(News Source: https://www.irishexaminer.com)