By Chris Stonor
U.S. San Francisco-based start-up, ZM Interactive, unveiled its new xFold drone this week that is capable of lifting objects weighing up to 1,000 pounds and has a flight time of eight hours, reports digitaltrends.com.
At present, there are various xFold drones, ranging from the xFold Spy, capable of lifting up to 15 pounds in weight, to the latest "12-propellor beast called the Dragon H" that's able to haul the aforementioned 1,000 pounds. The drones are modular, allowing different configurations of arms to be attached. Each drone has a carbon fibre body and can be flown in quadcopter form with either four, six, eight or 12 propellers. The drones are functionally the same, but scaled up according to the payload they need to carry. The xFold name comes from the fact they can fold up to be made more compact for transportation.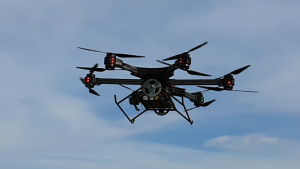 Ziv Marom, CEO of ZM Interactive, says, "Even the biggest drone that lifts up to 1,000 pounds, can fold up so that it can fit into a regular-sized SUV car." He continues, "That makes them easy for transporting to select applications like search-and-rescue missions, for example."
Marom explains the ability to handle heavier cargo payloads has gained xFold plenty of interest from various industry bodies including the Navy, which wants to use the craft to transport cargo from shore to naval vessels at sea.  The construction industry has also shown interest, wishing to use them as an alternative to cranes, as well as the wind turbine industry, hoping to deploy them for repairs.
The drones cost anywhere from USD5,000 for the smaller model to upward of USD100,000 for "the beast". Marom continues, "Each drone comes in various configurations, so it is really hard to say what it drone costs. This depends on the location, the mission and even the weather."
Adding, "For we can tailor the drone specifically to the mission or to the client by switching between configurations. This could be from removing arms to using different ones with different models."
For more information
(News Source: https://www.digitaltrends.com)