By Chris Stonor
Last Thursday a pioneering event took place in Amsterdam when a drone flew over the city centre of Amsterdam and delivered a take away meal. The craft soared across the river IJ from the restaurant Moon in the A'DAM Tower to the new HQ of Just Eat, the take away company – a route of one kilometre, reports a press release.
Jitse Groen, CEO of Just Eat and founder of thuisbezorgd.nl, said, "As a leading tech company, we like to join forces with partners to explore innovative and sustainable solutions together. We hope that this pilot will give us good insights into the business case behind these new ways of delivery."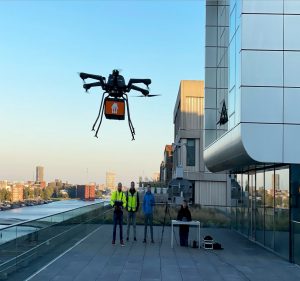 Others involved in the trial included the Dutch Drone Delta foundation, AirHub, Antea Group and Amsterdam Drone Lab.
"The trial," explains the release, "is to assess the mobility challenges of the the future. the pilot should above all provide new insights: how do passers-by and local residents experience this flight, what are the effects on the physical living environment and what is the added value of this form of delivery?" The test's aim is also to investigate the social and economic feasibility of drone delivery.
Henri Deelstra, board member of the Dutch Drone Delta and Business Line Director City & Climate at Antea Group, commented, "The Netherlands has a huge mobility challenge for which new technology offers opportunities. We want to investigate these possibilities thoroughly, so that they can be applied in a good way in the future. Drone delivery of meals is one of the applications we are investigating. But we are just as much looking at drones that deliver medicines, resupply ships or inspect ports."
The flight, approved by Air Traffic Control of the Netherlands and supervised by a drone operations team from the Amsterdam Police Unit and a patrol boat from Rijkswaterstaat, was tested and measured throughout the day to determine the effects on the social and physical living environment.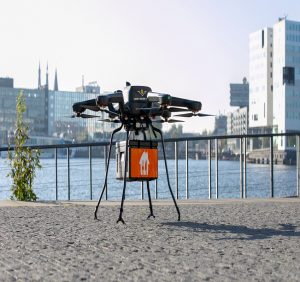 Several other trials are taking place where the drone will take off and land at Marineterrein Amsterdam. In collaboration with students from the ROC of Amsterdam, "residents and passers-by are also asked about how they experience the drone flights and how they view drone delivery. Furthermore, various measurements and tests are carried out in the context of noise, mobility and safety."
Footnote
The Dutch Drone Delta is a coalition of partners who have the knowledge, skills, experience and clout to realize applications with drones and work on the future of Urban Air Mobility. The group comprises of the Air Traffic Control the Netherlands (LVNL), Transavia, Royal Schiphol Group, Port of Rotterdam, KPN, Municipality of Amsterdam, a.s.r. non-life insurance, Antea Group, Space53, ROC van Amsterdam, Royal Netherlands Aerospace Center (NLR), ANWB, NS, RAI Amsterdam, HeliFlight Holland and there is close collaboration with the Ministry of Infrastructure & Water Management and Rijkswaterstaat.
For more information