By Chris Stonor
A New Zealand-constructed pilotless helicopter, capable of lifting heavy cargo, could help emergency responders deliver critical supplies into disaster zones, reports stuff.co.nz.
Syos Aerospace, recently started by co-founders Samuel Vye​ and Cameron Baker​, has developed the SA200, a petrol or diesel-powered unmanned helicopter which can carry payloads up to 200kg, has two hours flight time, a 100 kilometre flight range and 120kmh cruising speed.
Vye explained that existing heavy-lifting drones on the market were multi-copter ones with a diameter of about 9 metres and, because they were battery powered, had limited flight capability when carrying a large load.
He said, "Realistically there is nothing out on the global marketplace that can compete with the performance characteristics of what we are seeing."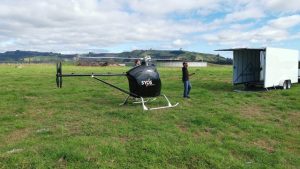 The 160kg SA200, which at this stage is a prototype, has two rotors and a span of 1.5 metres, meaning it can fit on a trailer and be towed by a car. He continued, "It's a key point and why we have opted for a helicopter design utilising a two rotor system." Adding, "The next year will be spent testing the SA200 to ensure it is reliable and robust before going to market."
Currently employing seven staff at Mt Maunganui, Syos is planning to raise a large amount of capital at the end of this year, allowing it to set up a factory in Bay of Plenty and employ a bigger workforce to start manufacturing in the second half of 2022.
Syos Aerospace was formed to commercialise R&D belonging to Vye and Baker's other company Envico Technologies, which develops technology for conservation projects in remote, difficult locations around the world. The company could not find suitable drones on the market for its own requirements, so began building their own.
Vye commented, "We ended up building bigger and bigger drones and realised these craft are actually really applicable to other areas."
He expects about 90 percent of sales would be international for clients in cargo logistics, defence, agriculture and forestry. Vye would not say how much the SA200 might cost, but said it should be cheaper than any helicopter on the market.
At this stage, a petrol combustion engine is being used because it provides a greater power to weight ratio compared to current and forecast battery technology. It can also incorporate a diesel engine, which is more suitable for defence force requirements.
Syos is also looking to incorporate developing autonomous flying in to the SA200, allowing users to set flight parameters on a device enabling the drone to take off and fly a pre-programmed route.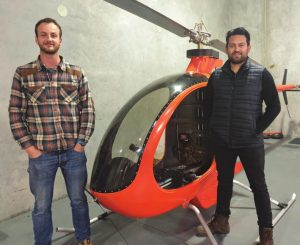 Samuel Vye and Cameron Baker
The unit has been designed to fit onto a trailer and be towed by car, so it can easily be used in commercial operations such as orchard spraying.
Vye explained, "They can turn up with the drone on the back of a trailer, pull it off and within five minutes have completed their pre-start checks and the unit is taking off." He continued, "This becomes a lot more cost-efficient and easier to access sites than, say, manned helicopters having to fly to site from the local airport."
Baker said a key application for the drone would be for use in disaster relief logistics. Its size and strength allows it to transport supplies into the field. "We can easily and safely get from A to B to aerially deploy critical supplies." Baker commented the company is seeking to gain Civil Aviation Authority (CAA) certification for its drone.
The CAA recently met the Syos team as part of discussions about the certification options available in New Zealand.
Envico Technologies is one of the first of a growing list of partners in an Airspace Integration Trials Programme, dedicated to supporting the development, testing and market validation of advanced unmanned aircraft and adjacent technologies in New Zealand.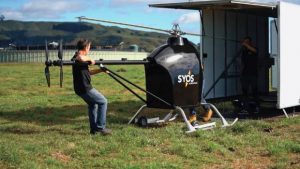 Visual presentation (top)
https://www.stuff.co.nz/business/industries/125162622/nz-company-syos-aerospace-develops-heavy-lifting-pilotless-helicopter-drone
For more information
https://www.linkedin.com/in/cameron-baker-b5034bb5/?originalSubdomain=nz
(News Source: https://www.stuff.co.nz)