By Chris Stonor
U.S. company, Fruity Chutes, a manufacturer of recovery systems for unmanned craft, announced this week the Raven On-Landing Parachute Release (ROPR), a patent-pending device that allows a parachute to be automatically released from a payload upon landing, reports suasnews.com.
This decreases potential damage caused by wind dragging a valuable payload after landing. Unlike similar devices, the ROPR is designed specifically for unmanned craft and rocketry use and is lightweight, compact, and easy to use.
The ROPR has "an internal hold timer that assures the parachute will not be released early after initial deployment due to opening bounce or other deployment shocks."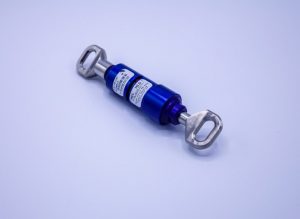 The ROPR Device
This timer locks the device during the initial vulnerable period when the parachute is opening and unstable. The hold timer rotates to allow for release only after landing, when the pull of the safety sail unloads. This cannot release early as long as the main parachute is open and the ROPR remains under load. This type of device can be used for landing drones, other unmanned craft and rockets.
Additional uses include water drop payloads such as sono-buoys, where the load needs to detach after splashdown, airdrop cargo systems and during trials, where the ROPR can minimise damage from multiple test flights during more harsh wind conditions.
Fruity Chutes parachutes are used for all types of rocketry, unmanned craft including multirotor and multicopter, as well as RC control aircraft and Balloon Research.
Gene Engelgau, CEO of Fruity Chutes, commented, "I've personally seen, after landing in windy conditions, valuable high-power rockets get dragged for miles and take on heavy damage."
He continued,  "One time, we had to drive to chase a rocket being dragged, and my son had to tackle the rocket to stop it. I designed the Raven device with the intention of helping others prevent this high-stress situation."
Compared to rockets drones can be more expensive and fragile and therefore prone to damage, so the ROPR can save a company money.
Visual presentation
https://www.youtube.com/watch?v=MP49OdQQTvE
For more information
(News Source: https://www.suasnews.com)