By Chris Stonor
Important news that seemingly got mislaid in the lead up to Christmas is that Seven-Eleven Japan has partnered with drone delivery company, ANA Holdings, to trial the delivery of food and drink products in the suburbs of Tokyo, reports arabnews.jp.
The two companies aim to commercialise a drone delivery system leading up to 2025 after a series of tests. The system is expected to be in high demand from residents in remote islands and sparsely populated areas.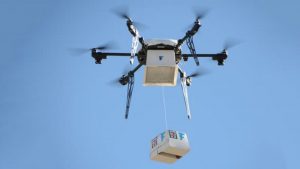 An initial trial took place at a Seven-Eleven Japan convenience store in the town of Hinode, western Tokyo. A staff member of the store who received an order for "oden" stew soup from a customer through a smartphone packed the food into a box and loaded it onto a drone placed on a launch pad at the store's parking area.
The remote-controlled craft flew for around five minutes to a park 1.4 kilometres away, where the customer, a man in his 70s, was waiting for the product. The process between the order receipt and delivery completion took about 30 minutes. Most importantly, the soup had not spilled during its drone flight.
According to the companies, this drone delivery trial over a residential area "is groundbreaking". A Seven-Eleven Japan spokesperson said, "The company sees tremendous potential in the system."
For more information
https://www.ana.co.jp/en/jp/?type=e
(News Source: https://www.arabnews.jp/)