By Chris Stonor
Drone delivery company, Wing, announced this week, it will launch a new and quieter craft in the Gungahlin district of Canberra in South East Australia. The well-to-do and upwardly mobile residents have complained of the drones' noise since Wing first initiated deliveries two years ago. Gungahlin itself has a population of 6,500.
During the first lockdown in 2020, there was a dramatic increase in the number of customers using Wing's service around the Canberra area including the suburbs of Crace, Franklin, Palmerston and Harrison. 15 local businesses are involved with selling items ranging from hot food, coffee and fresh bread to household essentials such as milk, eggs, toothpaste and toilet paper, being flown to customer's properties.
Gungahlin
Wing says the new drone model "almost halves" the sound levels from an overhead flight. It will be introduced into service gradually over the coming weeks.
Wing spokesperson, Jesse Suskin, said, "Having made thousands of deliveries to customers in Canberra over the last two years, we've also heard community feedback regarding noise and overflight of our drone in the neighbourhood, and we are committed to making improvements in response to their feedback."
 Previous UAMN Article on Wing:
https://www.urbanairmobilitynews.com/public-consultation/communities-who-experience-drone-services-are-overwhelmingly-supportive-wing/
Wing is also planning to expand to additional suburbs in the Gungahlin region in the next few months and has begun delivery to select commercial spaces and workplaces.
Suskin continued, "In 2021, use of our delivery service in Australia has continued to grow. In the first few months of this year, we've already delivered more than 50 percent of the total number of orders delivered around Canberra in 2020."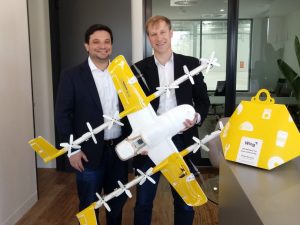 Jesse Suskin and Jonathan Bass
Suskin commented that as Wing expands it would continue to expand its product offering and provide services beyond residential areas, "making adjustments to our drone aircraft to increase our delivery range and provide noise mitigations for the community". Wing is a subsidiary of Google's parent company, Alphabet and also operates in Brisbane, the U.S and Finland.
Meanwhile, the increasing rise of Gungahlin's stature was recently shown when four mixed-use sites for property development, located in the town centre, went under the hammer for AUS21.25 million. The sites, ranged from 3,000 sqm to around 10,500 sqm. The blocks are approved for up to 202 new apartments.
Visual presentation
https://www.youtube.com/watch?v=PG2Ei_BWSPU
For more information
(News Source: https://canberraweekly.com.au)