By Chris Stonor
A female-led drone company based in San Francisco, California is scaling up the hiring of staff after raising funds to develop an autonomous air cargo eVTOL, reports aerospacetestinginternational.com. MightyFly has raised USD5.1 million in seed funding to help hire and construct its eVTOL aircraft, the MF-100.  It also seeks business partnerships for delivery service operations.
The company is developing the MF-100, a hybrid eVTOL aircraft to have a cargo capacity of 100 lbs, a cruising speed of 150mph and a range of 600 miles as well as a capability to make multiple deliveries during the same flight. MightyFly also plans to develop a larger aircraft with a cargo capacity of up to 500 lbs.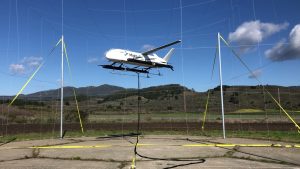 The MF-100 has received a special airworthiness certificate from the FAA, and trials are being performed in California. The company aims to achieve FAA Part 135 certification and airworthiness certifications in other markets, like Australia and Asia.
MightyFly is being developed to use Automatic Dependent Surveillance-Broadcast (ADS-B) while operating within Unmanned Aircraft System Traffic Management (UTM) systems. The company said they will also be supervised by a human operator in MightyFly's own tower.
Founder and CEO of MightyFly, Manal Habib, said, "We marry economies of scale with autonomy to completely disrupt logistics, making quick, cost-efficient, and carbon-neutral cargo accessible to all businesses and all areas."
Habib is the only woman to head a company designing and manufacturing its own drones to operate a logistics service. She runs it with Scott Parker. The two met while working for Zipline, where Habib led flight controls and Parker was a senior mechanical engineer. MightyFly was founded to meet a need for a larger autonomous aircraft with a greater cargo capacity.
She continued, "For me, aerospace is more than a profession, it's a passion—and a way to transform lives for the better. Since I was a child, I've dreamt of the possibilities to advance human civilization through the power of flight. Today, I'm making it happen."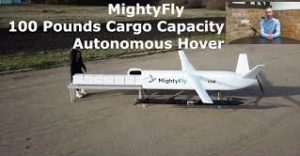 John Formisano, a retired FedEx executive, formerly VP of Global Vehicles, and an advisor to MightyFly, added "MightyFly's range and payload are unprecedented in the expedited delivery space today. Most existing delivery platforms carry much lighter payloads much shorter distances."
Visual presentation
https://www.youtube.com/watch?v=644fZTQDhh8
 For more information
 (News Source: https://www.aerospacetestinginternational.com)