By Chris Stonor
Alabama-based Greer's Markets is to partner with Deuce Drone to deliver groceries, reports thebamabuzz.com. Deuce will operate craft that carry up to 10 lbs of goods.
Deuce Drone specialises in "last-mile delivery" and works together with retailers to create a cost-effective way to compete with e-commerce that can beat current delivery times for smaller businesses. It will begin trial flights in the city of Mobile, between Greer's St Louis Street store and an Innovation Portal (just down the road), to gauge the effectiveness of the delivery system.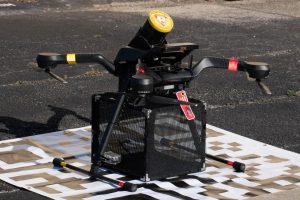 Bill Haub, Senior Director of Deuce Drone, commented, "This collaboration presents an excellent opportunity to apply our technology in an urban setting and is a great next step in Deuce's growth by providing the possibility of seamlessly transitioning to delivery service in downtown Mobile."
Lucy Greer, Corporate Spokesperson of Greer's Markets, added, "We are already invested in curb-side pickup and delivery and look forward to offering an additional delivery option by drone."
Greer's is a family-owned chain of 29 grocery stores in its fifth generation of ownership with outlets in Alabama, Florida and Massachusetts.
For more information
https://www.deucedrone.com/#home
(News Source: https://thebamabuzz.com)