By Chris Stonor
In a major acknowledgment that drone deliveries will become an important part of future British life, the UKs Royal Mail, under the new leadership of Executive Chairman, Keith Williams, has publicly stated the Postal Organisation will deploy drones in remote areas of the country imminently to deliver letters and parcels, reports culture.readsector.com. This is a huge step forward for the drone delivery market and the industry in general.
In a major overhaul of the 500 year-old postal service, Williams said,"If you take, say, the Scilly Isles – an expensive piece of water [to cross] – they might be ideally suited to a drone. Trials of the service in remote areas are expected to begin imminently."
The Executive Chairman is also examining putting barcodes on stamps to make it easier to track letters and parcels, while potentially launching a medicines delivery service. During the pandemic, Royal Mail has helped pharmacies deliver prescriptions to patients who cannot leave their homes.
Williams, who has led Royal Mail since German CEO, Rico Back, was ousted in May, is attempting to modernise the postal service, which has 130,000 staff and was privatised in 2013.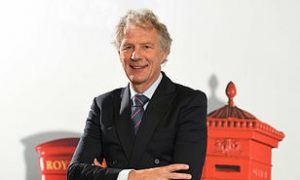 Keith Williams
Another plan could see letters and parcels delivered throughout the week. At present, Royal Mail only dispatches for six days with some Sunday deliveries via Parcelforce. Williams suggests weekend deliveries could become part of a "pay extra premium service", but no decision has been made.
At present, the postal service is struggling to cope with 'exceptionally high volumes' of mail after last month's Black Friday shopping bonanza coincided with early Christmas shopping and a second lockdown.
A rush of parcels and online Christmas orders – which are expected to be up by 50 percent on last year – has delayed deliveries and Williams commented the company had opened two temporary warehouses to handle demand. Royal Mail also expects 10 percent more Christmas cards to be sent this year as Britons reconnect with loved ones. Drone deliveries could ease this congestion and speed up the process in the future, particularly for more remote areas of the country.
For more information
(News Source: https://culture.readsector.com)