By Chris Stonor
The first ever drone freight flight between UKs Land's End airport and the Isles of Scilly St Mary's Island too place last week (December 10th), reports cornwalllive.com.
This pioneering drone flight delivering NHS medical supplies to the island then returned with local produce including flowers, gin and clothes. This successful trial may pave the way for more unmanned aerial vehicle flights around Britain. The successful return journey on Thursday (December 10) was the first ever freight drone flight between two UK commercial airports.
Previous UAMN Articles:
https://www.urbanairmobilitynews.com/medical-pharmaceutical-transport/covid-19-nhs-part-of-cornwall-to-isles-of-scilly-medical-drone-deliveries-trial/
https://www.urbanairmobilitynews.com/express-delivery/update-steamship-company-team-up-with-flylogix-drones-for-delivery-service-trial-to-isles-of-scilly/
Specially sanctioned by the Civil Aviation Authority (CAA), the drone flight by Hampshire-based Flylogix was part of a technical test by the Isles of Scilly Steamship Company, which runs air and sea passenger and freight services between the mainland and islands.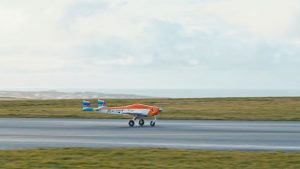 Stuart Reid, CEO of Steamship, which also owns Land's End Airport, commented, "When a group of islanders formed the Company many years ago, they scarcely could have imagined today's amazing milestone, delivering goods using an unmanned aircraft."
He continued, "We've shown that a drone freight service is not only feasible but that there is demand for its potential to deliver time-sensitive and high-value items for the island community, using aircraft that have 98 percent fewer emission than a manned equivalent."
The two companies have entered a two-year partnership to develop, alongside the local community, what could become the UK's first scheduled and regular freight delivery service by drone.
Following the successful trials there are aims to introduce a daily freight service between the mainland and Scilly next summer for a three-month trial period, and work towards a full commercial operation using a bespoke freight UAV within two years. There are also plans to develop a larger, purpose-built UAV to meet islanders' needs.
Charles Tavner, executive chairman of Flylogix, said, "This is a very significant test flight because it opens the way for us to work with the community on Scilly towards a scheduled commercial drone service and breaks new ground in the UK for the integration of unmanned aircraft with manned commercial flights."
The move has been welcomed by the Council of the Isles of Scilly with chairman, councillor Robert Francis, adding, "This has the potential to be an important additional delivery option, particularly for urgent or time-sensitive payloads such as medical tests or machine parts. It could also improve resilience for our remote island community during the winter months or periods of bad weather."
The outbound flight carried an NHS supply box, demonstrating how a drone could be used to carry essential items like medicines, tissue samples and tests and evenCovid-19 vaccines to and from the islands.
Bruce Daniel, a pathology service manager at the Royal Cornwall Hospital in Truro which performs around nine million tests a year, as well as Incident Pandemic Director for NHS South One Network covering Devon and Cornwall, said, "Drone delivery immediately struck me as a possible solution to get any type of pathology sample to the mainland. It also offers the ability to reduce turnaround times for Covid-19 testing for people on the islands."
Visual presentation
https://www.youtube.com/watch?v=dkNwDJerqX4
For more information
https://www.islesofscilly-travel.co.uk
(News Source: https://www.cornwalllive.com)