By Chris Stonor
UAMN first highlighted the Mightyfly Cargo Drone close to a year ago. Much has happened to the company since, reports autoevolution.com.
Founded and run by the only woman to head a company designing and manufacturing its own drones, Manal Habib, Mightyfly has gone from strength to strength. The MF-100 drone is much closer to achieving the goal of quadrupling in size after the flagship obtained airworthiness certification from the FAA last year. The company's aim is to revolutionise drone logistics with a hybrid-powered craft that can carry close to 500 lbs, fly over 600 miles and travel up to 150 mph.
UAMN Previous Article:
U.S: Air cargo eVTOL start-up MightyFly to expand with recruitment drive after raising USD5.1 million
MightyFly is currently testing the MF-100 prototype with its 100 lb capacity. The craft recently conducted its first successful autonomous flight in the San Francisco Bay Area.
Habib, commented, "We marry economies of scale with autonomy to completely disrupt logistics, making quick, cost-efficient, and carbon-neutral cargo accessible to all businesses and all areas."She continued, "For me, aerospace is more than a profession, it's a passion—and a way to transform lives for the better. Since I was a child, I've dreamt of the possibilities to advance human civilization through the power of flight. Today, I'm making it happen."
Habib runs the company with business partner Scott Parker. The two met while working for Zipline, where Habib led flight controls and Parker was a senior mechanical engineer. MightyFly was founded to meet a need for a larger autonomous aircraft with a greater cargo capacity.
What makes the Mightyfly stand out from the crowd is its hybrid propulsion system that is able to recharge its batteries while flying, enabling the ability to conduct several deliveries on a single-flight route.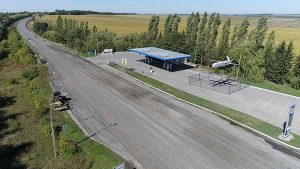 The startup's director, John Formisano, is a retired FedEx executive and former Vice President of Global Vehicles, so the aircraft is developed with precise delivery requirements in mind. The drone is primarily designed for business-to-business applications and is versatile enough for transporting goods not just in urban and suburban areas but also in rural ones.
Visual presentation
https://www.youtube.com/watch?v=Xks-nUtCa40&t=4s
 For more information