By Chris Stonor
U.S multinational package delivery and supply chain management company, UPS, announced this week plans to purchase 150 or more eVTOL aircraft from Vermont-based start-up, Beta Technologies, reports businessinsider.com. Beta's Alia-250C is the shipping giant's choice. This eVTOL can carry 1,400 pounds of payload and travel up to 250 miles emission-free at a speed of 170 mph.
Initially, UPS is buying 10 Beta aircraft with delivery expected by 2024 along with a charging station that re-powers the craft in one hour. There is an option to eventually purchase 150 or more eVTOLs.  UPS has committed to reducing its total emissions by 25 percent within 4 years. Aircraft are the worst emitters in the transportation world, so converting them to electric will have a major impact.
Bala Ganesh, Vice President for Engineering at UPS, said, "When we model it out, we have to believe that in that future situation with the assumptions we know … every dollar I spend, within three years I can recoup, based on either cost savings or profit improvements." Adding, "The stopwatch starts on delivery."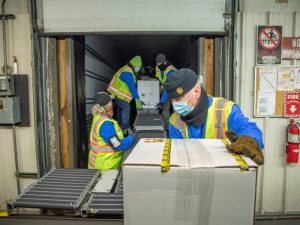 Present eVTOL emphasis is on passenger taxi services where leading companies like Archer, Lilium and Joby are soon to float on the Stock Market. So, focusing on the freight market is a little different. As Kyle Clark, Beta's founder and CEO, points out, "It eliminates two of the most annoying things about airplanes, which is having to go to an airport as well as all the fuel they burn."
The company has primarily focused on cargo since it was founded in 2015. It completed another key test required by the Federal Aviation Administration last month, moving it one step closer to full flight authorisation. Early customers were biotech company United Therapeutics and the USAF. The cargo focus has paid off now UPS has come knocking.
Ganesh told businessinsider.com that even before talking to eVTOL makers, UPS knew the operational and financial return it wanted from the technology investment. So it surveyed the entire specialist market factoring in culture, funding, technology readiness, and fit for UPS' needs.
Ganesh explained, "What we have done is saying OK — what do we think are those big megatrends that are going to come up in the future? There's personalised medicines, there's hyper-urbanisation, there's going to be restrictions of internal combustion vehicles in urban areas, there's going to be traffic congestion and thereby, maybe even congestion pricing of what can come in or not in the cities."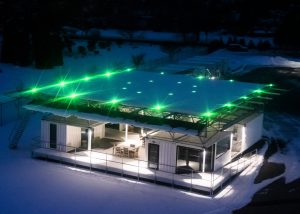 Charging Station
These trends mean more shipments coming from more remote parts of the country and many more deliveries going into densely populated areas. These challenges led the UPS tech team to look for a more efficient replacement for the small Cessna aircraft in its network.
Since Beta has been developing eVTOLs to move precious medical cargo like organs, UPS saw possibilities for its healthcare shipments and beyond. Ganesh continued, "We tried to figure out how to make this set of the network really efficient. And this particular technology that's popping up would be a good fit."
Replacing Cessnas with eVTOLs, which can take off from almost anywhere and land on UPS facility grounds, means skipping several rounds of loading and unloading and at least one truck trip, not to mention the aircraft emissions. Plus, Beta's eVTOL are designed to carry shipping containers, saving the time it takes for Cessnas to be loaded with up to 1,000 pounds of packages one by one. Clark said, "The neat thing about a point-to-point aircraft is that you get to omit a lot of those handoff points."
UPS says the extra speed will benefit small businesses and rural hospitals because it will boost shipping pace from more remote locations. Plus, the relatively quiet vertical takeoff and landing opens new possibilities for pickup locations, since airports and noise clearances aren't necessary. The planned eventual addition of autonomous flight adds even more possibilities and where UPS's operations could fundamentally change for good.
Ganesh commented, "It's an asset that's constantly doing something throughout the day and night. And so in effect this network that looks like a hub and spoke … may potentially look different in the future."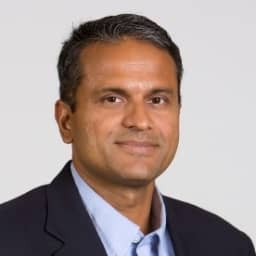 Bala Ganesh
This future could include packages traveling as the crow flies without the constraints of existing road or rail infrastructure, airport locations, handling constraints, or speed limits. Ganesh concluded, "I think the way we put together the Lego pieces to make that future is going to look very different from what we have today."
Visual presentation
https://www.youtube.com/watch?v=DfHyNmwzCdY
For more information
https://www.ups.com/us/en/Home.page
(News Source: www.businessinsider.com)