By Chris Stonor
Ever since the calamitous crash of the Hindenburg in May 1937, airships were thrown into the box of lost causes. Yet, during the last decade, not only are these Zeppelin-type craft making a comeback, but are being viewed by some as an important part of the world's future green transport.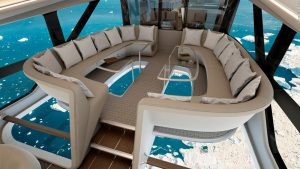 Inside of Airlander 10
Bloomberg.com posted an excellent 20-minute video last week entitled "How Airships Could Overcome a Century of Failure". At first, it poses the question. When the Titanic sunk, shipping on the high seas never stopped. It continued regardless. So why airships? The answer being the full fiery horror of the Hindenburg calamity was filmed for all to see. And as for the power source… far too dangerous.
Today, airships are making a comeback, says the film, highlighting companies like the UK Hybrid Air Vehicles 'Airlander' and French-based company 'Flying Whales'. With a far safer, more-electric and cleaner energy-source, these modern craft tick the all-important green decarbonisation box and can be employed for a variety of uses from tourist cruises to major cargo transport.
A fascinating watch.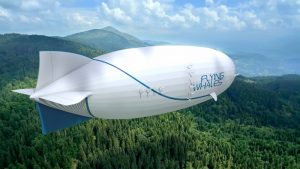 Watch Video:
https://www.bloomberg.com/news/videos/2022-03-02/how-airships-could-overcome-a-century-of-failure-video
For more information
https://www.hybridairvehicles.com/our-aircraft/airlander-10/
(News Source: https://www.bloomberg.com/europe)