By Chris Stonor
The large cargo drone, FH-98, delivered 1.5 tons of grassland mutton between Otog Front Banner, Inner Mongolia to Yinchuan, Ningxia Hui on Tuesday (Dec' 8th), reports ecns.cn.
This successful autonomous delivery trial took the FH-98 drone just 1 hour to arrive at its destination, much shorter than the overland transport time of 2.5 hours, increasing the average transportation efficiency by 60 percent.
Previous UAMN article on the cargo drone FH-98:
https://www.urbanairmobilitynews.com/logistics/sf-express-successfully-carries-out-major-uav-trial/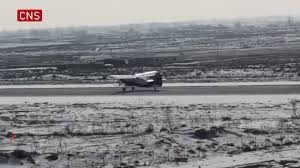 FH-98 landing at Yinchuan Destination
Back in August, The FH-98, owned and developed by SF Express Group (a Chinese express delivery and freight service) and China Aerospace Times Electronics (R&D company and manufacturer of aerospace electronics products), took off from Ningxia and arrived at its destination airport in one hour also. This was the first time a large UAV had been deployed in China for a logistics scenario.
The FH-98's maximum take-off weight is 5.25 tons. It has a large load and cargo compartment suitable for freight and is one of the biggest UAVs in China. FH-98 also has the advantages of a short take-off and landing distance as well as a fast cruising speed. It can rapidly fly from regional hubs to surrounding cities, greatly improving the efficiency of cargo deliveries.
SF Express established its subsidiary Feng Bird Airlines in 2017 to take full charge of large-scale drones. In 2020, it received a strategic investment from Chongqing Liangjiang Aviation Investment Group. Under this partnership, Feng Bird Airlines plans to adopt FH-98 as its primary cargo representative. The application of large-scale drones for logistics scenarios is quickly expanding in China.
Watch video
http://www.ecns.cn/video/2020-12-10/detail-ihaepfcy4396841.shtml
(News Source: http://www.ecns.cn)