By Chris Stonor
In early November, F-drones completed "the world's first commercial drone delivery at night", reports a press release. The company delivered a critical part from the Wilhelmsen Group to the vessel Berge Sarstein owned by Berge Bulk, anchored 5km from the Singapore shore within 7 minutes. The payload, weighing 3 kilograms, was another significant milestone in itself, being the world's first 3D Printed CE-Certified Lifting Tool from Wartsila. The release says, "This milestone further establishes F-drones as the pioneer in maritime last mile deliveries using drones."
Working in this sector, F-drones offers an on-demand delivery to ships in port. The method is a great benefit for both time and cost savings as small batches are postponed usually until a larger load can be brought by boat. Maritime drone delivery is also very safe, as flying over water avoids permanent structures and people which could lead to damage or injury.  Until recently, a night operation was prohibited without special permission.
The release continues, "Globally, commercial drone deliveries are limited to daylight hours, due to the additional technical and operational challenges associated with night operations. F-drones' achievement is a monumental step forward in enabling on-demand deliveries to vessels 24/7."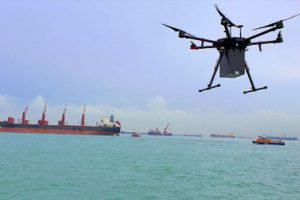 Drone delivery at night is particularly critical for the maritime industry, as ports operate 24 hours.  "One of the possibilities that this opens up is the delivery of urgent items at night, such as critical spare parts and medicine," explains the release. "With its drone solution, the items can be delivered within minutes, and may be a safer option compared to taking a boat and sending items up a pilot ladder/gangway at night."
Since the beginning of the year, F-drones has completed more than 100 autonomous flights with its proprietary drone, Hyperlaunch.  This craft can deliver 5kg loads over a 50km distance. The release says, "The drone boasts an ability to carry the largest payload size in its class and has achieved top speeds of 144 kmph," says the press release.  Hyperlaunch is scheduled for official release in mid-2021.
According to the company, "Hyperlaunch is a scaled-down version of a craft that would ultimately be able to deliver 100kg loads over 100km."
Nicolas Ang, Co-founder of F-drones, comments, "Traditional means of transport are expensive, slow, labour and carbon intensive. F-drones' solutions aid the maritime industry to reduce 80% of the costs, time and CO2 emissions and reduce unnecessary human contact amid the pandemic."
Watch Video
https://www.youtube.com/watch?v=gS9525BW65E&trk=organization-update-content_share-embed-video_share-article_title
For more information
(News Source: https://dronelife.com)