By Chris Stonor
Wing, an affiliate of Google's Alphabet, is becoming the most successful drone delivery service in the world. Not only is it ahead of the crowd, but breaking new ground for its competitors to follow.
The company's success in Australia, for example, continues to increase and it refers to the expansion as "a harbinger of wider UAV-driven growth predicted to benefit the country's retail industry." This confidence has been boosted recently after Wing added yet another new client to its rapidly growing list.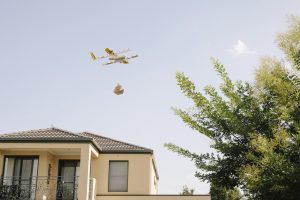 The latest addition is the Roll'd Vietnamese Food Company, where Wing's drones will be flying crispy Bánh mì, rice paper rolls, Gỏi, Bao, dumplings and other street food delicacies to households and workplaces in and around the Canberra metropolis and the Northern State of Queensland.
Roll'd Vietnamese, described as "Australia's leading healthy quick service restaurant brand", joins a growing list of retail businesses where coffees, burgers, pizzas, office supplies, healthcare products, medication, pet treats and various grocery items are now being flown to customers.
Apart from Canberra and Queensland, the company is also experiencing "a booming business" in the Victoria-city of Logan, which has been dubbed "the drone delivery capital of the world" after its 50,000 orders helped propel Wing over the 100,000 mark last year.
The popularity of the service was helped by the company creating a drone flight hub on the roof of a local mall, speeding up the process of flying products from participating shops to waiting customers.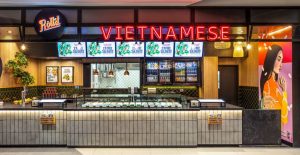 Roll'd Vietnamese
Wing's success has been greatly helped by the Covid-19 pandemic and the ensuing lock-downs. In fact, this helped fuel a 600 percent rise in activity. The question is: When the world returns to a new normal, how will this affect Wing's sales?
Yet, evidence suggests more and more people are now used to having goods delivered to their door. In fact, they prefer it, lockdown or no lockdown, and that this "virtuous upward spiral of UAV activity" will continue.
To bear this out, Singapore-based consultancy firm, AlphaBeta, recently published a report forecasting enormous gains for retail businesses using drone delivery leading to a USD1.5 billion boost in sales by 2030. "The spread of UAVs for that service," the report points out, "should eliminate 2.3 billion kilometres currently travelled by road vehicles for delivery runs and thereby decrease annual carbon output by 551,000 to 606,000 tons each year."
All good green stuff.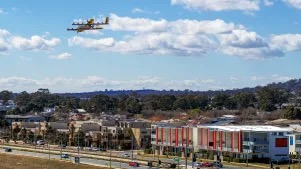 The report goes on to say that delivery drones should provide "individual consumers access to four times as many retailers than they currently buy from." It also predicts purchasers saving up to "USD240 million in delivery fees, thanks to the 80-90 percent reduction in the overhead costs businesses presently incur."
Visual presentation
https://www.youtube.com/watch?v=7wA8uYjgfoM
For more information
(News Source: https://blog.dronestagr.am)