By Chris Stonor
ZALA Aero, a leading Russian developer and manufacturer of unmanned aerial systems, unique payloads and mobile systems, is presently exhibiting its latest 421-16E5G at the Moscow ZALA EXPO which began this week, reports a company press release.
The hybrid powered ZALA 421-16E5G is designed for long-distance flights. The non-aerodrome-based system is capable of providing aerial monitoring covering distances of up to 150+ kilometres, while staying in the air for more than 12 hours. The 421-16E5G hybrid power system provides the charge of a buffer battery for an hour, which allows for longer flights. During recent trials, 16 hours was achieved.
The unmanned craft is equipped with two thermal imagers and a 60x video camera. Optionally, the ZALA 421-16E5G is capable of carrying a payload weighing up to 10 kg. The video stream is broadcast in HD format (1280 * 720), which allows the ground station operator to view the streaming image in great detail.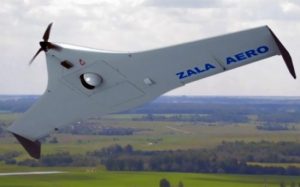 In addition to opto-electronic loads, the device is equipped with electronic reconnaissance equipment and communication repeaters.Objects are detected and recognized in real-time by the onboard computer based on AI.
ZALA Aero was founded in January 2015. The main company products are reconnaissance unmanned systems and digital solutions. Currently, more than 2,000 ZALA unmanned craft operate within Russia. Areas of application include the protection of state borders, reconnaissance and rescue operations and monitoring of high-risk facilities and emergencies.
ZALA Aero is also a leader in air monitoring services covering the gas and oil sectors within the Russian Federation. Each year ZALA UAVs survey more than 5 million kilometres of oil and gas infrastructure, performing more than 30,000 flights.
Visual presentation
https://www.youtube.com/watch?v=ZAoZ20HinMk
For more information