By Chris Stonor
Drones and eVTOLs flying around other planets in the solar system may sound like science fiction, but Cathie Wood's ARK Invest have drawn up exciting plans to add a Space Exploration exchange traded fund (ETF) under the ticker ARKX, reports cnbc.com.
Cathie Wood's ARK Invest plans to tap the growing eVTOL and drone industry and while the ETF's constituents have yet to be announced, shares of space companies Virgin Galactic and Maxar Technologies each jumped more than 8 percent in after-hours trading last week alongside Nasdaq-listed EHang, the air taxi company from China, whose shares flew to near USD50, about four times the company's initial public offering price last December.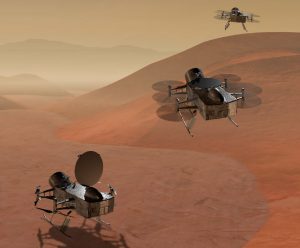 The securities filing of the fund commented that Space Exploration ETF would focus on companies that are "leading, enabling, or benefitting from  technologically enabled products and/or services that occur beyond the surface of the Earth."
Ark Invest is one of the most successful investment funds on the world stock markets coming off a hugely successful 2020, with its flagship ARK Innovation fund returning more than 170 percent last year. The fund's largest holding is electric car maker Tesla which accounts for more than 10 percent of its weighting.
Ark founder and CEO Cathie Wood told CNBC that investors should "get on the right side of change and stay on the right side of change because it has hit escape velocity in the aftermath of the coronavirus."
On the back of this move, there could be a slew of space-related companies coming to stock market during 2021 including eVTOL and drone companies due to an expected increase of mergers and purchases within the industry and the financial support required.
Ark has divided the industry into four categories: orbital aerospace, suborbital aerospace, enabling technologies and aerospace beneficiary. Influenced by the so-called "disruptive innovation", Ark's strategy focuses on technologies that can "radically change the world", including AI, DNA sequencing, robotics, 3D printing and battery storage.
Ark explains the four categories of companies that will be in the Space Exploration ETF. A statement reads:
"Orbital Aerospace Companies are companies that launch, make, service, or operate platforms in the orbital space, including satellites and launch vehicles. Suborbital Aerospace Companies are companies that launch, make, service, or operate platforms in the suborbital space, including drones, air taxis and electric aviation vehicles."
It continues, "Enabling Technologies Companies are companies that create the technologies required for successful value-add aerospace operations, including artificial intelligence, robotics, 3D printing, materials and energy storage. Aerospace Beneficiary Companies are companies that stand to benefit from aerospace activities, including agriculture, internet access, global positioning system (GPS), construction and imaging."
For more information
https://www.sec.gov/Archives/edgar/data/1579982/000110465921003837/tm212832d1_485apos.htm
https://www.ehang.com/ehangaav
(News Source: https://www.cnbc.com/world/?region=world)