By Chris Stonor
A new report from UK Research and Innovation (UKRI) and PwC shows "significant potential benefits for UK economy" by using drones and electric aircraft, says the UKRI website. By switching to these technologies the report explains there are many benefits including:-
: Remote maintenance
: Connecting people with mail, medicine and each other
: Be up to 48 percent cheaper
: Deliver faster journey times
: Improve worker safety when compared to current practices
The website explains, "To support the widespread and safe use of new aviation technologies, UKRI's Future Flight Challenge wanted to understand the potential costs and benefits of different applications."
Therefore, The Future Flight Challenge (FFC) asked PwC (a research company) to "undertake a socio-economic study that could be used to assess six different use cases which represent potentially valuable applications of new aviation technologies."

These six cases were:-
: Deploying a drone to inspect a 220km powerline in Scotland, which at one point runs more than 2,500ft above sea level, rather than sending a two-person team
: Delivering mail from Inverness to Kirkwall in Scotland by cargo drone instead of using a normal cargo plane
: Deploying a drone to deliver medicine from a pharmacy direct to patient homes instead of using a car
: Employing a battery powered sub-regional air taxi instead of the train to travel between York and Preston
: Using a battery powered air mobility vehicle to travel 25km in a rural area instead of using a car
: Employing a battery powered air mobility vehicle instead of a ridesharing service to travel 10km in a major city.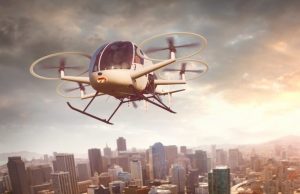 The study found that using drones to inspect powerlines, deliver mail and medicines could be up to 35 percent cheaper than the current way. While people travelling from York to Preston by eVTOL, for example, could be significantly beneficial due to cheaper fares and travel times halved when compared to train travel.
Future Flight Challenge Director, Gary Cutts said, "There is great potential to be gained from these new aviation technologies and I hope that businesses in the sector will be encouraged by these results."
PwC UK Drones Technical Lead, Craig Roberts, added, "The Future Flight Challenge is playing a pivotal role in shaping the future of aviation in the UK. The study deepens our collective understanding of the potential for new aviation technologies."
The FFC is funded by UKP125 million from the Industrial Strategy Challenge Fund. It aims to "revolutionise the way people, goods and services fly." It supports the development of a novel integrated aviation system around freight-carrying drones, urban air vehicles to hybrid-electric regional aircraft.
The FFC will also develop the supporting infrastructure, regulation and control systems required to use these new aircraft practically and safely.
Read the Report
https://www.ukri.org/wp-content/uploads/2021/01/UKRI-120121-ISCFFutureFlightChallenge-Socio-economicStudy-3.pdf
https://www.pwc.co.uk/issues/intelligent-digital/drones.html