By Chris Stonor
The University of Sydney announced this week, AUD8 million funding from the Cooperative Research Centres Projects (CRC-P), reports sydney.edu.au. The Uni's researchers describe this as "three for three" as the money goes towards three different projects including its Vertiia medical eVTOL development.
The Vertiia aims to provide a rapid response air ambulance and low cost passenger transport for regional and remote Australia. The project, headed by Associate Professor, Dries Verstraete, enables the optimisation and construction of a quiet, efficient and lightweight propulsion system tailored for Vertiia, greatly increasing range, reducing noise and lowering costs. Creating these components will increase Vertiia's potential to operate in noise sensitive areas and enable the delivery of the lowest cost transport as an air ambulance or air taxi.

University of Sydney
The other two University projects being funded are the ARIA (a bionic visual-spatial prosthesis for the blind) and the advancement of nanoporous MOF materials for high efficiency hydrogen storage. At present, The inability to store H2 efficiently is a key barrier to the uptake of H2 as a new zero-carbon fuel, as identified in the National Hydrogen Strategy.
In total, 22 Australian industry-led collaborative R&D projects will share in AUD47.1 million in funding from the Australian Government.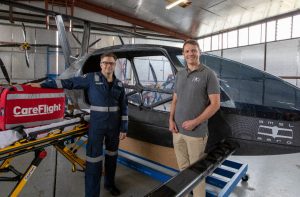 For more information
https://www.sydney.edu.au/news-opinion/news/2020/11/25/electric–aero-ambulance–developed-at-the-university-of-sydney-.html
(News Source: https://www.sydney.edu.au)