By Chris Stonor
Earlier this week Urban Air Mobility News covered a story concerning the U.S. drone delivery company, Zipline, and their aim to deliver blood and medicines to Hospitals in Israel, first beginning during 2021. More details have emerged about this proposed project.
Read Previous UAMN article on the Zipline and Israeli Connection:
https://www.urbanairmobilitynews.com/medical-pharmaceutical-transport/zipline-prepares-for-new-medical-supply-air-drops-in-israel-for-2021/
Zipline's interest in the Israeli market began over a year ago. In August, the company established a local branch, Fly Zipline Israel. Heading this initiative are Israelis Asaad Joubran and Yaniv Gelnik, business development leaders at Zipline International for the Middle East, North Africa and South Asia (Joubran) and for Africa and Europe (Gelnik), reports uavdach.org.
The Israel Government-owned Urban Air Mobility NAAMA Initiative, comprising of 10 different Ministries and established to regulate, test and operate commercial drone networks in the country's cities, had approached Zipline along with seven other drone companies, earlier in the year, asking for a proposal on potential medical deliveries. Today, Zipline is one of several chosen by NAAMA, to carry out initial trials within Israel.
The company aims to establish a distribution centre in central Israel, from where its drones can carry blood or medicines to hospitals in the country's Northern region. Presently, Zipline is holding talks with hospitals in Tiberias, Nahariya and Safed, and hopes to begin test flights early next year. It is also negotiating with the country's health service providers and drug distributors. Meanwhile, the company is hiring flight operators, medical logistics experts, pharmacists and aviation technicians.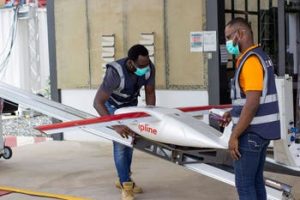 The drones often carry and deliver fragile materials and products that must be kept at a particular temperature, including blood, certain medications and sensitive medical equipment. Such items are usually located in facilities in central Israel, such as the national blood bank in Sheba Medical Centre, Tel Hashomer, east of Tel Aviv or in specialised laboratories. Hospitals outside of Greater Tel Aviv usually arrange for special deliveries of these products, yet surplus supplies can occasionally end up being discarded. Hospitals hope that rapid drone delivery of these sensitive samples can save them money.
Zipline intends to bring in a small number of delivery drones for the test flights, with the goal of eventually creating a fleet of 30 craft. The company is in the early stages of registering with the country's Civil Aviation Authority. It will apply for formal authorisation to operate trials, starting with ones where the operator maintains direct eye contact with the drone. The hope is to obtain approval for BVLOS by March or April 2021. In addition to registering Fly Zipline Israel, the company is developing intellectual property covering communication technology for transporting medical products. While for Zipline, Israel is a small market, the company hopes that its official launch here will facilitate an entry to the European market in the future.
A difficulty that Zipline face is the Israeli economy. The company is reluctant to spend the money required to create a drone network before it has actual clients, and health care providers are hesitant to sign contracts before witnessing a full demonstration of the technology. To overcome this quandary, Zipline seeks economic support from the government to help alleviate the cost of the infrastructure for the tests, estimated at a few million shekels.
Therefore, Zipline and NAAMA have applied jointly to the Israel Innovation Authority's (IAA) pilot program for testing and demonstrating drone technologies, established to support the Israeli Industry. The winning companies are eligible for repayable grants covering 20 percent to 50 percent of their R&D costs for the trials. A decision is imminent. The IAA must decide whether to give funding to the U.S. company to help accelerate its introduction to Israel, in the hope, that this will invigorate the local drone delivery industry, while meeting crucial delivery needs of remote hospitals.
While the company has drawn up detailed plans for entering the local market, there's no guarantee that the trials will develop into a commercial launch of the service.
In other Israeli drone delivery news, NAAMA has rolled out pilot programs in which drones developed by Israeli companies, transport coronavirus treatments and test kits within a five to ten kilometre radius.
BWR and Flytrex were chosen for test flights at the Dorot Geriatric Medical Centre in Netanya, Sha'ar Menashe Mental Health Centre outside Hadera and, soon, at Hillel Yaffeh Medical Centre, also in Hadera. Simplex was chosen recently to air-drop packages to hospitals in Nahariya, Safed and Tiberias.
Visual presentation
https://www.youtube.com/watch?v=tJuOiyi76cw
For more information
(News Source: https://www.uavdach.org)