By Chris Stonor
Pfizer has contracted WeRobotics for another medical drone delivery project, but this time for using a more powerful craft.
WeRobotics previous Pfizer project:-
https://blog.werobotics.org/2019/11/19/werobotics-pfizer-use-cargo-drones-to-improve-health-in-the-dominican-republic/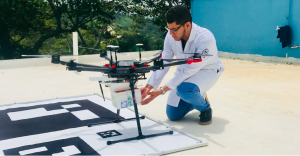 As part of the earlier project, the company's partners at Dominican Republic Flying Labs used an M600 to deliver essential medicines to remote health facilities. The purpose was to demonstrate how locally-led delivery drone projects could be carried out by using affordable and locally repairable craft. For example, it has been employed by Nepal Flying Labs to collect patient samples.
Further information:
https://blog.werobotics.org/2019/09/11/werobotics-now-offers-cargo-drone-solutions/
https://blog.werobotics.org/2019/10/09/how-locally-led-cargo-drone-deliveries-in-nepal-can-improve-health-outcomes/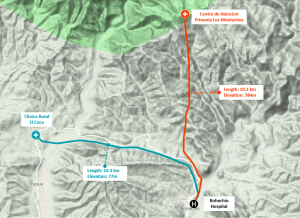 Today, WeRobotics has recently purchased a DJI M300, a more robust cargo-carrying drone. While the M600 will continue to serve Flying Labs' needs, the M300 comes with additional advantages.
It can handle even the harshest weather conditions and has multiple dedicated sensors for collision avoidance, making it extremely safe for both ground and air risks. Also, the M300 has double the range of the M600, closer to 25 km compared to the M600's 10 km,  where the M300's payload capacity is around 1.5kg. This improved drone will greatly assist, for example, with flying Covid-19 vaccines to more remote communities.
While the company has successfully deployed the M600 cargo drone on three continents, given all this experience, the challenges surrounding the superior M300 should be easily managed. Yet, the craft costs more to purchase than the M600, but the former still remains cheaper than most commercially available cargo drones.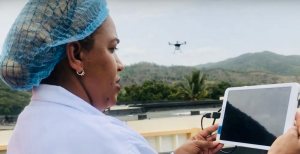 Footnote
WeRobotics has also delivered medicines and blood samples in the Amazon rainforest; collected TB samples from remote clinics in Nepal and BNMT; and organised drone trainings and demonstrations alongside the CDC in Papua New Guinea.
In addition, the company has worked with the WHO on cargo drone projects in Ghana and Madagascar to optimise the collection of patient samples. WeRobotics was also contracted to work on the first phases of a vaccine drone delivery in the DRC. Furthermore, it has worked on non-traditional cargo drone projects with partners in Brazil to reduce Zika, in Fiji to reduce Dengue and in Tanzania to reduce malaria.
Visual presentation 
https://www.youtube.com/watch?v=TnXySwo8g7M&feature=emb_logo
 For more information
https://werobotics.org/ourteam/
(News Source: https://blog.werobotics.org)