By Chris Stonor
The Worcestershire-based company, DronePrep, is among the "first wave of winners" to secure a share of more than UKP7 million UK Government funding to support drone companies delivering critical PPE and Covid-19 testing kits to more remote areas of Britain, reports a press release. This initial investment is part of a much larger fund of over UKP33 million to assist aviation to solve major global challenges.
DronePrep which is located at Worcestershire technology accelerator BetaDen in Malvern, is part of a consortia to establish a UAV/Drone Emergency Medical Airbridge between Cornwall and the Isles of Scilly to help the existing NHS medical supply chain.
The project brings together two pioneering drone delivery companies that have previously assisted with the UK pandemic challenge – Windracers and Skyports – for the first time. The release explains "(This) will be the first UK project to provide a joined-up collaborative solution that uses both long range, large payload drones in addition to flexible Vertical Take off and Landing (VTOL) drones. This will allow for point-to-point and inter-island delivery."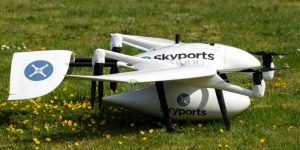 Claire Owen, co-founder at DronePrep, said, "We're really pleased to have secured a share of this first wave of funding, which will allow us to provide practical support to the NHS this Winter. It builds on the work we have been undertaking in the region, engaging with landowners on both the mainland and the Isles of Scilly to help define future flight plans."
The same partnership also secured funding from the Department for Transport (DfT) as to transport medical supplies and equipment to St Mary's Hospital, Isle of Wight from Southampton General Hospital via the Solent Airport in only 20 minutes. That trial, which was fast-tracked in March involved a Windracers ULTRA UAV drone providing an additional transit service for small unit loads as a backup to the existing logistics system. It was the UKs first CAA approved BVLOS service.
Gareth Whatmore, the other co-founder of DronePrep, commented, "The project this new funding will support is a great illustration of how opening up low-level airspace in a safe and co-ordinated way can support the health and wellbeing of communities in difficult-to-access areas."
He continued, "One of the aims of our first project was to develop our understanding of the needs of landowners and regulators so we could open up flexible drone corridors to support the local community. This new project is the first real-life manifestation of that vision." Adding, "We are delighted that local stakeholders and the UK's leading drone delivery providers and experts have joined forces with us to make meaningful strides for innovation in this sector, while responding to the COVID-19 challenge"
The funding comes from the Government's Future Flight Challenge, which aims to increase mobility, reduce reliance on road travel and increase UK manufacturing opportunities. The investment is being used to support innovative projects harnessing the latest technology to support the fight against the Coronavirus, as well as other challenges such as climate change.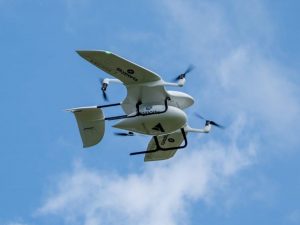 Business and Industry Minister, Nadhim Zahawi, said, "This initial UKP7 million funding for projects across the country demonstrates how using the latest and most cutting-edge aviation technologies can step up our response to the coronavirus pandemic, help us build back better and cement our well-earned reputation for research and development excellence, while creating hundreds of new jobs."
Transport Minister Rachel Maclean added, "The UK is already a world-leader when it comes to innovation in aviation and this funding will allow us to carry on supporting the extraordinary work taking place right across the country."
The DronePrep mission is to discover suitable locations for drone use in the UK by bringing pilots and landowners together. The aim is to establish safe and fully-integrated airspace. The company recently joined Cohort 3 at technology accelerator BetaDen, where it is developing an automated software system for drones flying in low level airspace.
For visual presentation
https://www.youtube.com/watch?v=NRH7aiULmHc
For more information