By Chris Stonor
Swoop Aero, a leading Australian-based drone delivery company, will soon be dispatching medical products for the country's largest healthcare wholesaler, Symbion, and pharmacy chain, TerryWhite Chemmart, around the town of Goondiwindi located on the Queensland/New South Wales border, reports a company press release. The project, which has been in development for over a year, has the involved local pharmacies very excited.
Goondiwindi Chemmart pharmacist, Lucy Walker, who employs over 20 locals in her outlet, says she is delighted their community has been chosen to trial the delivery of medicines by drone. "Many of my customers live on farms or small towns in outlying areas. In some cases a visit to our pharmacy to collect vital medicines may mean a three-hour round trip. With the ability to service people within a 130km range of Goondiwindi, this drone trial will provide enormous convenience and peace of mind for many of our customers."
She continues, "Importantly, we will learn a great deal from the trial. We can use this to not only fine tune the service for our community, but also share these experiences with other regional TerryWhite Chemmart pharmacies around Australia who may be exploring a drone delivery service."

The project is being funded by EBOS Group, the overseer of Symbion. Company CEO, Brett Barons, comments, "Not only is this a very convenient option for the delivery of medicines for those living outside of ready access to their pharmacy, but as we saw during the terrible bushfires in Australia last summer, there were cases where road access to some homes and towns was completely shut off."
He adds, "To have a drone to provide deliveries of medicines could be of critical importance in situations where accessibility is limited."
Swoop Aero is presently working with Australia's aircraft regulator, CASA, and the relevant State Authorities to ensure all requirements are met, with the launch of the service remaining subject to regulatory approvals.
Eric Peck, CEO at Swoop Aero, explains, "The drone will fly in and out of a central point in Goondiwindi with the flight path fully automated and approved by CASA, deliver the customers products, then return to base ready for its next job. After a little training, it is easy to operate".
Peck, whose company is very active delivering medicines in Africa and the South Pacific, continues, "When we're dealing with medicines, security and safety are obviously key considerations and Swoop Aero is firmly committed to ensuring that safety is our number one priority." Adding, "our experience overseas shows no disruption to communities as a result of transitioning to drone-based logistics."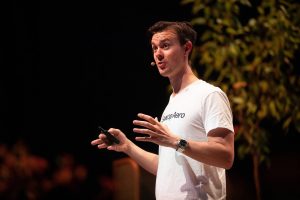 Eric Peck
Reaching speeds of up to 115kmp/h, Swoop Aero's drones can withstand extremes in weather including 50kmp/h winds and heavy rain. It has a range of 130km on a single charge, ensuring it can reach anyone living within that radius of Goondiwindi.
Peck continues, "The sound of one of our drones taking off is similar to a bus starting its engine, and lasts for only around 10 seconds until the craft reaches cruising altitude, where the noise is imperceptible over normal background noise."
Footnote
: Symbion is a national wholesaler of healthcare services and products with over 3,500 retail pharmacy customers and 1,000 hospital customers across Australia.
: TerryWhite Chemmart is one of Australia's largest retail pharmacy networks with more than 450 community pharmacies across Australia.
: EBOS Group is the largest wholesaler and distributor of healthcare, medical and pharmaceutical products in Australia, generating more than AUS8 billion in annual revenue.
Visual presentation
https://www.youtube.com/watch?v=Sa1U_043AxY&feature=youtu.be
For more information
(Top photo: Lucy Walker)