By Chris Stonor 
The Indian Directorate General of Civil Aviation (DGCA) has approved two feasibility studies for delivering Covid-19 vaccines by drone, reports timesofindia.com.
The Authority has permitted the Indian Council of Medical Research (ICMR) and the Indian Institute of Technology (IIT) Kanpur to study if it is feasible to deliver Covid-19 vaccines by drones. The study will be carried out on the IIT campus. The IIT is on the cutting edge of Indian drone technology and is best known for its development of a drone helicopter (watch video below).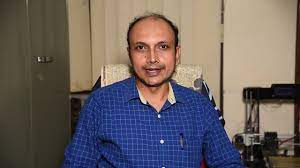 Professor Abhishek
The drone can be used for both long-endurance surveillance and vaccine distribution. With a capacity to carry weight up to 5 kg, the helicopter is able to cover a distance of 50 km. As the weight reduces, this can be increased to 100 km. Professor Abhishek of the Department of Aerospace Engineering, said, "It operates on petrol, can fly for up to four hours and be deployed for vaccine distribution in remote areas." Given India is in the middle of a raging Covid-19 pandemic, the sooner vaccines are distributed the better.
In the first trial phase, the drone will remain in line of sight and if successful, will move to Beyond Visual Line of Sight (BVLOS). An official commented, "Once we reach the second stage, the aviation and Home Ministries clearance will be sought. We feel vaccine delivery by drone may not be far away now." The DGCA has also approved the standard operating procedure of Telangana government doing a feasibility study for delivering vaccines by drone under line of sight conditions.

Meanwhile, ITT has organised its 5th International Conference of the Robotics Society to be held between June 30th and  July 4th where drones will feature.
Visual presentation
https://www.youtube.com/watch?v=4JUhJoH5nwI
 For more information
(News Source: https://timesofindia.indiatimes.com)