By Chris Stonor
India's eagerly anticipated drone delivery project "Medicines From The Sky" was launched last week in Telangana State, reports a press release. The State is the first to deploy drones for delivering medicines to remote areas of India.
Hepicopter, a medical drone company, is collaborating with Marut, a Data Analytics and AI specialist, to utilise BVLOS flights for transporting vaccines and other much-needed critical healthcare.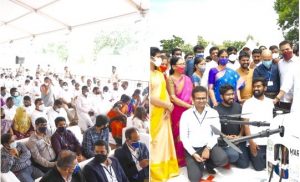 Hepicopter's drones can carry up to 30 kgs of payload over 40 kms that includes multiple temperature control boxes for high altitude operations. The drone can hold four boxes where each can carry up to 10 units of blood and over 500 doses of vaccines. So, on a single flight, each drone can deliver 2,000 vaccines and 40 blood units.
Jyotiraditya M Scindia, India's Union Minister for Civil Aviation, along with other dignitaries attended the inaugural flight.

For more information
https://www.linkedin.com/company/hepicopter/