By Chris Stonor
 Swoop Aero, a Melbourne drone delivery company, has gained a reputation flying medical supplies to remote areas in African countries like the Congo and Malawi, including transporting Covid tests and vaccines, using its Kookaburra drones, reports startupdaily.net. These craft have clocked up over 10,000 flights.
Now, the company has developed a new drone called The Kite that is heading for the U.S and FAA certification in a push to take drone logistics to the next level, including across cities. Swoop aim to focus more on urban areas with its new craft rather than just remote regions.
Swoop Aero CEO Eric Peck is hoping "to turn the company into the Qantas of drone logistics", saying the company believes "the Kite is the most advanced aircraft of its type being progressed through the FAA certification program."
He comments, "Our vision is for a world where seamless supply chains bring emotional and economic prosperity to all they serve. We have developed a sophisticated, agile, and robust technology platform that is the complete infrastructure needed for drone logistics at scale and proven it in the real world."
And adds, "That platform, alongside the Kite, will support delivering our company's vision as we strive to provide a service to 100 million people in 2025."
The Kite has been developed by Swoop's Australian-based engineers and can travel at up to 200km/h across a range of more than 180 km on a single battery charge, with an increased payload capacity of up to 5kg.
Kite is designed for a range of tasks, from delivering medical supplies and disaster response to search and rescue and aerial data capture and terrain monitoring.
Peck continues, "The release and unveiling of the Kite is the sum of listening to our partners' needs' and learning from our extensive experience across six countries and three continents to develop a pioneering solution that makes access to the skies seamless to address critical gaps in access to essential healthcare, emergency response, and search and rescue".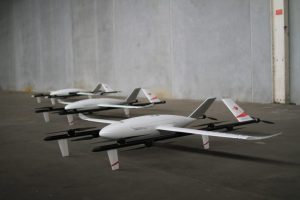 Having launched four years ago, Swoop Aero has collaborated with the likes of UNICEF and the Bill and Melinda Gates Foundation to improve health outcomes using its drone network.
Peck says the business is looking to the longer term as it grows. "We're not focused on short-term returns. We are looking beyond the next five years, to how Swoop Aero will become a leader not only in the growing medical logistics market, which is already growing exponentially, and a one-stop air logistics company."
For more information
(News Source: https://www.startupdaily.net)