By Chris Stonor
A drone took off from the roof of the Syracuse Upstate University Hospital last week and flew over city streets to drop off a package containing a Covid-19 test kit at a parking lot half a mile away on East Fayette Street, reports syracuse.com.
It was one of 13 trial flights conducted by the hospital. These tests is the first time the government has allowed drone deliveries of medical samples flown over a populated area with busy streets and moving vehicles.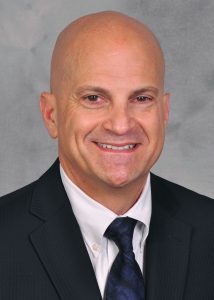 Dr Robert Corona
The unmanned flights provide a glimpse of what Upstate officials view as a new way of rapidly delivering blood, tissue and other lab specimens between the hospital, its Community campus on Onondaga Hill and other locations as an alternative to using courier vans or other vehicles.
Dr. Robert Corona, CEO of University Hospital and a pathologist, enthused, "This is the future. Using drones is especially great when something is time sensitive."
DroneUp, a specialist company for drone delivery nationwide, conducted the test flights between University Hospital and the parking lot Upstate's CNY Biotech Acclerator building at 841 E. Fayette St. The craft flew a distance of about 2,500 ft at an altitude of 150 ft. It took DroneUp seven months to obtain a waiver from the FAA to carry out the trials.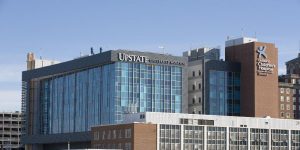 Although, the waiver only permits drone deliveries of Covid-19 test kits, Tripp Shannon of DroneUp said,  "We will ask the FAA to amend the waiver so Upstate can use drones in the near future to transport all types of medical specimens."
In addition to DroneUp, Upstate has been working with NUAIR, a non-profit company that manages the unmanned aircraft test site at Griffiss airport in Rome.
Visual presentation
https://www.youtube.com/watch?v=d-wibIuSKRs
For more information
https://www.upstate.edu/hospital/
(News Source: https://www.syracuse.com)
(Top photo: A drone delivers a package containing a Covid-19 test kit at a parking lot at 841 E. Fayette St., Syracuse)