By Chris Stonor
UK Bedfordshire-based Blue Bear Systems, announced recently the successful completion and flight trials of its "Air Druids Medical Delivery Program", reports a press release. This innovative initiative is assisted by funding through the UK Government's Future Flight Program
The Air Druids Program is built around Blue Bear's existing proven CenturionTM C2 swarming drone control system and drone logistics technologies.
A prestigious group assembled for the company's latest demonstration including the Mayor of Bedford, Patrick Lyons, Acting Manager for Economic Growth & Development and Vicki Murdie,  Innovation Lead (Future Flight Challenge) for UK Research and Innovation.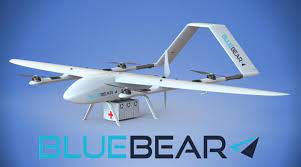 Previous UAMN Articles:
https://www.urbanairmobilitynews.com/utm/blue-bear-launches-heads-up-ar-tech-for-drones/
https://www.urbanairmobilitynews.com/defence/uk-blue-bear-portray-flexibility-from-medical-delivery-drones-to-military-20-drone-swarm/
The Air Druids program demonstrates a smooth integration of the medical payload into Blue Bear's craft. The release explains, "This provides the ability for a real time, fully monitored, temperature-controlled payload tightly coupled to the broader command and control system." And goes on, "The payload is monitored for vibration, temperature, and anti tamper/exposure to light. Linking the payload data directly into the UAS as opposed to having a separate system such as LTE allows for operation where there is no mobile phone coverage with no data black outs."
And then adds, "This enables real time tracking for the entire flight path. This is particularly important for disaster relief where phone networks might have gone down, or for simply flying at higher altitudes where there is no mobile coverage."
Blue Bear's SmartConnectTM technology allows for a fully scalable solution for routine and emergency medical logistics.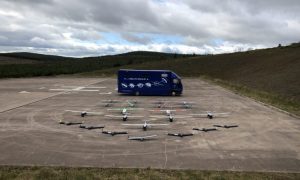 This technology enables multi-domain unmanned systems including UAVs, UGVs and USVs to all work together collaboratively and be simultaneously tasked from a single location/operator.
Ian Williams-Wynn, MD of Blue Bear, commented, "We have been working on the swarming drone control and logistics systems for several years, and it is now flight proven with up to 20 different drones. We are currently working on further medical logistics projects with more to come in the near future."
The release continues, "Blue Bear also recently demonstrated the scalability of this same technology and how it can be utilised on swarms of larger logistics drones carrying up 60kg of payload for the Royal Marines.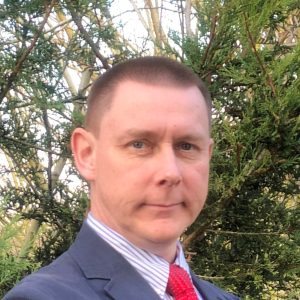 Ian Williams-Wynn
"The flexible system design allows drones from any manufacture to be utilised, as the technology is agnostic to the airframe. Thus, the swarming control system will be able to run a logistics flight control hub, tasking, scheduling and monitoring large numbers of drones in real time."
Visual presentation
https://www.youtube.com/watch?v=_TgdDsU83H8
For more information