By Chris Stonor
Drones are being seriously considered to deliver Covid-19 vaccines to the Isles of Scilly, reports bbc.co.uk. 
Kate Shields, CEO of the Royal Cornwall Hospitals Trust (RCHT), told Trust Members this week, "We are looking at using a drone to fly items to the Isles of Scilly and we are seeing if the vaccine can be delivered like that. Obviously, there are travel issues there and we are looking at what we can do." Adding, "Where we have vulnerable patients in the Isles of Scilly we will be vaccinating them."
Previous UAMN Articles on this Subject:
https://www.urbanairmobilitynews.com/medical-pharmaceutical-transport/covid-19-nhs-part-of-cornwall-to-isles-of-scilly-medical-drone-deliveries-trial/
https://www.urbanairmobilitynews.com/express-delivery/update-steamship-company-team-up-with-flylogix-drones-for-delivery-service-trial-to-isles-of-scilly/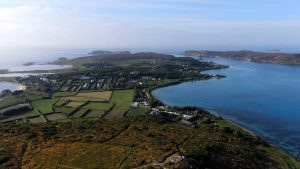 Isles of Scilly
The first Pfizer/BioNTech coronavirus jabs are expected to be given to priority groups in the UK next week. The Isles of Scilly, which lie 28 miles off the coast of Cornwall, recorded its first cases of Covid-19 in September.  There were 157 new cases across the islands in the week up to November 28th.
Shields commented the prospect of a vaccine was "really exciting", with vaccinating in Cornwall expected to begin next week. "These will be initially given at a central site at the Royal Cornwall Hospital in Truro," she told Trust Members. The CEO reassured residents that while the vaccine had been developed "in an amazingly quick time", it had gone through "all the proper processes".
(News Source: https://www.bbc.co.uk)