By Chris Stonor
Wingcopter, a German-based developer of drones, announced this week that it has raised USD22 million via a series A Funding, reports nordic9.com. Investors are led by American VC Xplorer Capital and Futury Regio Growth Fund of Germany, as well as contributions from Futury Ventures and Hessen Kapital 111.
Wingcopter aims to expand and develop its areas of flight testing, certification, production (including a new U.S. facility), and software development specifically focused on ground and flight control software, as well as embedded systems, software architecture, and cloud infrastructure. The company is also advertising for 13 new staff positions.
https://wingcopter.com/careers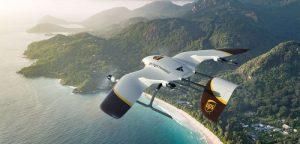 Wingcopter, founded in 2017 by Tom Plümmer, Jonathan Hesselbarth and Ansgar Kadura, is a manufacturer of unmanned craft aimed to improve the lives of people worldwide via commercial and humanitarian applications.
The company focuses on the delivery of medical goods as well as parcels and food, and operates the Wingcopter 178 Heavy Lift, which provides both one and two-way delivery, covering distances of up to 120 kilometers. The drone can accurately lower a package through a winch mechanism, or land at the point of destination and return to its origin with a new payload.
In addition to manufacturing and selling drones, Wingcopter also aims to use the new financial investment to expand its drone-delivery-as-a-service offering.
These services offer customers an opportunity to benefit from Wingcopter's technology and BVLOS (beyond visual line of sight) flight operations experience on five continents without having to own and maintain a fleet of drones, hire and train pilots, or run operations themselves.
Visual presentation
https://www.youtube.com/watch?v=S1LngmJGfV8
For more information
(News Source: https://nordic9.com)