By Chris Stonor
 Zipline, perhaps,"the world's leading medical drone delivery service" has joined the Small UAV Coalition that strengthens the organisation's commitment to the continued development of a regulatory framework for commercial UAS.
Zipline's delivery service in both the U.S and around the world, demonstrates the great social and consumer benefits from delivery of medical supplies and medicines by drones.

During the Covid-19 pandemic, Zipline, in partnership with Novant Health, has delivered medical supplies and personal protective equipment (PPE) in North Carolina as part of the FAA's UAS Integration Pilot Program (IPP). Zipline is also among one of ten drone companies for which the FAA has proposed special class airworthiness criteria.
Benjamin Schwartz, head of Global Central Government Affairs at Zipline, commented, "Zipline looks forward to working with the Small UAV Coalition to expand our successful collaborations with industry partners in the health and logistics sector as well as partner with the U.S Administration to achieve safer, faster, cleaner, and more equitable health care in America."
Zipline's unique expertise and experience will enhance the Coalition's efforts as it continues to work with the FAA on forthcoming regulations and policies including Beyond Visual Line of Sight (BVLOS).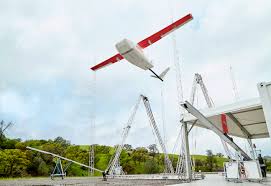 Other members are Amazon Prime Air, Wing and Verizon, while Associate members include Percepto, One Sky, Workhorse and Iris automation. The Coalition describes itself as "A partnership who believe that U.S. leadership in the research, development, production, and application of unmanned aerial vehicles (UAVs) will benefit consumers in all walks of life."
For more information