By Chris Stonor
Zipline, the medical drone delivery company, and the Kaduna Sate Government of Nigeria announced a partnership this week to deliver medical productsaround Kaduna including life-saving Covid-19 vaccines, reports premiumtimesng.com. The Kaduna government says the agreement, "will revolutionise access and availability of critical and lifesaving medicine for millions of people."
The State Governor, Mallam Nasir Ahmad El-Refai, added, "The drones will make on-demand deliveries of hundreds of different vaccines, blood products, and life-saving medications. Kaduna State is focused on delivering one of the best public healthcare systems in Nigeria."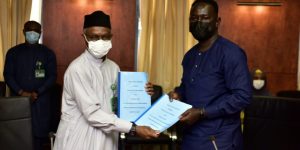 Kaduna State Governor, Nasir El-Rufai, and Zipline Senior VP, Daniel Marfo, sigh agreement
A released statement explains that the service will operate 24 hours a day, seven days a week, from three distribution centres—each equipped with 30 drones—and deliver to more than 1,000 health facilities serving millions of people across Kaduna State. Together, all three distribution centres will be capable of micro-targeting the delivery of more than six tons of medical products each week over more than 60,000 square kilometres.
The state has upgraded 255 primary health centres, one in each political ward, to improve access to health care services. It is also implementing a supply chain transformation program in the health sector, including the installation of a Pharmagrade warehouse, to efficiently service the needs of hospitals for medicines, consumables and vaccines. The primary health board is recruiting and training 3000 officers to manage these systems and ensure that health facilities do not experience stock-outs.
El Refai continued,  "The agreement with Zipline builds on and adds value to our initiatives to strengthen the capacity of the Kaduna State health system and helps ensure that millions of people in Kaduna State will always get the care they need."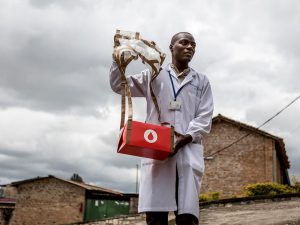 This new delivery service is to launch operations in the second quarter of 2021 and will expand access to the Covid-19 vaccine, especially for rural and more remote areas. This allows health facilities in Kaduna State to bypass the need for ultra-low freezers, which are required to transport, store and distribute the Pfizer vaccine, by receiving on-demand deliveries of the precise amount required at any time, safely and compliantly within the required temperature profile. Zipline claim it has already delivered over 1 million vaccines in Africa.
Zipline CEO, Keller Rinaudo, commented, "Where you live shouldn't determine whether or not you have access to the medicine you need. Our partnership will help transform the quality of care and help make Nigeria a world leader in using technology to expand universal healthcare access."
The government's goal is to put almost all of its more than eight million citizens within minutes of a lifesaving medical delivery by drone. In the first phase of operations, a distribution centre located in Barwa in Kauru LGA will be established to serve health facilities there beginning in Q3 of this year. During 2022, additional distribution centres are planned in Rafingyeda in Birnin Gwari LGA and Kachia in Kachia LGA. All three distribution centres are projected to serve over one thousand regional hospitals and health facilities serving millions of people.
The drones both take off and land at Zipline's distribution centres, requiring no additional infrastructure or manpower at the clinics they serve. The drones fly autonomously and can carry 1.8 kilos of cargo, cruising at 110 kilometres an hour, and have a round trip range of 160 kilometres, even in high-speed winds and rain.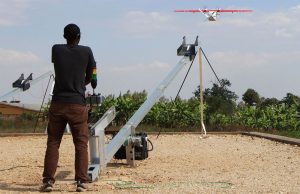 Each of the three planned Zipline distribution centres in Kaduna State will cover a delivery area of more than 20,000 km2. They will collectively be capable of delivering to more than 1,000 health facilities serving millions of people. Deliveries are made from the sky, with the drone descending to a safe height above the ground and releasing a box of medicine by parachute to a designated spot at the health centres it serves.
Each drone can fly 80 km's round trip, in strong winds and rain, day or night, to make on-demand deliveries in 30 to 45 minutes on average. Zipline's drones have flown more than 5 million autonomous miles to deliver more than 1 million doses of vaccines, units of blood, and critical and life-saving medications to thousands of health facilities serving more than 25 million people across three countries.
Visual presentation
https://www.youtube.com/watch?v=fjjbeltn4Fo
For more information
(News Source: https://www.premiumtimesng.com)