By Chris Stonor
Today, the first day of the 2020 Amsterdam Drone Week Hybrid, the Amsterdam Drone Lab initiative was launched. It is described as "an inner-city playground for urban air mobility."
Two leading members of the project are Thijs Meijer, Deputy Director at Marineterrein Amsterdam and Joshua Serrao, Strategy and Innovation manager at City of Amsterdam.
Thijs Meijer commented, "Step by step, we work together with our great partners and active community to be executing VLOS/BVLOS flights here to set the agenda for and solve urban challenges. We welcome all interested parties to take part in our future field lab for VLOS and BVLOS urban air mobility flights."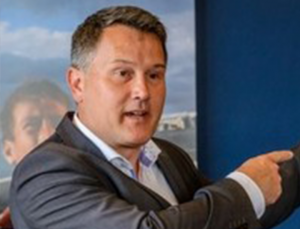 Thijs Meijer
Marineterrein Amsterdam is unusual given its trial location for urban air mobility operations lies within a dense populated area with quays, buildings, harbour, workers, recreational facilities as well as meadows and trees.
This unique setting allows for UAV operations such as structure and site inspections as well as medical deliveries. The premises feature a take off and land site, workshop areas and short stay facilities.
Visual presentation
https://www.youtube.com/channel/UC89i0_KuB9L55ttsT4CIlEA
For more information
https://www.living-lab.nl/dronelab
(News Source: https://www.dronewatch.eu)