By Chris Stonor
Drone Think Do, an EIP-SCC Ambassador and Promoter of Urban Air Mobility (UAM) has reiterated on Linkedin, the Seven UAM Principles, following the major announcement this week of the Paris Urban Air Mobility Consortium and its industry partners.
Previous UAMN article:
https://www.urbanairmobilitynews.com/air-taxis/choose-paris-region-groupe-adp-and-ratp-group-announce-winners-of-uam-branch-expressions-of-interest/
Drone Think Do lays out the seven principles below.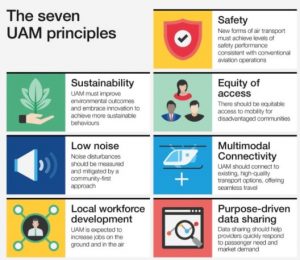 : Sustainability (UAM must embrace the environment and innovation to achieve a more sustainable outcome)
: Safety (New UAM must achieve similar high levels of safety as concenvional aviation)
: Equity of Access (There should be equitable access to mobility for disadvantaged communities)
: Low Noise (noise pollution should be measured and mitigated by a community-first approach)
: Multimodal Connectivity (UAM should connect to existing, high-quality transport options, offering seamless travel)
: Local Workforce Development (UAM is expected to increase jobs on the ground and in the air)
: Purpose-Driven Data Sharing (Data sharing should assist providers rapidly respond to passenger need and market demand)
Back in September, Los Angeles "wrapped up" a nine-month partnership with the World Economic Forum (WEF) called Principles of the Urban Sky. The project was conceived to develop a framework for the implementation of advanced air mobility.
These seven principles were created to guide the formation of a policy road map in LA, while informing policy-making efforts around the world.
For more information
https://euagenda.eu/organisers/drone-think-do
https://twitter.com/DroneThinkDo?ref_src=twsrc%5Egoogle%7Ctwcamp%5Eserp%7Ctwgr%5Eauthor