By Chris Stonor
Extensive UAM flight tests are to be held in the cities of Bordeaux and Toulouse during 2022, reports airwaysmag.com. The project called Tactical Instrumental Deconfliction and Inflight Resolution (TindAIR), is to be overseen by French artificial intelligence specialist Innov'ATM on behalf of Eurocontrol's Single European Sky ATM Research (SESAR) program.
The project spotlights the integration of unmanned aircraft into existing airspace, but also aims to address the needs of eVTOL aircraft applications such as air taxi services. The project, described as "a very large-scale demonstration," is to assess the impact of growing autonomous flight.
EU Commission HQ, Brussels
The TindAIR team consists of various companies and research groups across France, Italy, Spain and the UK including French aerospace research body Onera and Rockwell Collins, the Institute for Sustainable Society and Innovation (Italy), transportation advisors Pildo Consulting (Spain), vertiport developer and drone operator Skyports (UK), Italian aerospace research institute CIRA, Fundacion Tecnalia Research and Innovation (Spain), and Airbus risk management subsidiary APSYS. The project has financial backing from the European Union's Horizon 2020 research and innovation fund and is part of a wider SESAR effort to establish U-space for unmanned air traffic.
A TindAIR press release states, "The objective is to demonstrate that the acceptance of this new traffic in urban areas is possible while ensuring safety and respecting the privacy of people and property."
The group will deploy aircraft, as of yet unknown, to demonstrate potential UAM user cases for manned and unmanned vehicles in suburban and urban parts of Bordeaux and Toulouse. The intention is to "validate a concept of operations for these flights and define the architecture for airspace conflict resolution."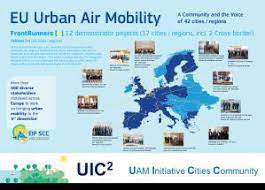 The release continues, "Operational scenarios will address existing urban needs or compelling use cases, from medical emergency transport to a mix of freight and passenger flights, including extreme cases like sector saturation capacity and emergency landing." Adding, "And all of this using aircraft of various types and capacities with varying levels of automation, all sharing the same volume of airspace."
(News Source: https://airwaysmag.com)