By Chris Stonor
NEOM, a new futuristic city development in northwest Saudi Arabia, and Volocopter, are collaborating to design, implement and operate the world's first bespoke public vertical mobility system, reports a press release.
It says, "Air taxi and vertical logistics services will be fully integrated with the overall multi-modal and zero-emission public transit system in NEOM." And goes on, "The joint venture will be the sole operator of initial public transit routes across NEOM, while enabling an open eVTOL ecosystem for vertical mobility services including logistics, emergency response, and tourism."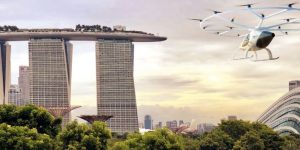 NEOM has placed a confirmed order of 15 Volocopter aircraft to commence initial flight operations within the next 2-3 years.
The partnership between NEOM and Volocopter is to lead the design and development of "a three-dimensional public transportation system, advancing the technical, regulatory, and infrastructure solutions for eVTOL operations across NEOM" and offers vertical mobility services as an integral part of the city's "multi-modal and zero-emissions public mobility system, providing seamless connectivity for passengers and goods."
Nadhmi Al-Nasr and Christian Bauer
Nadhmi Al-Nasr, CEO of NEOM, commented, "We are demonstrating to the world that NEOM is the ideal region to implement urban air mobility rapidly and are on a mission to become a global living lab for future mobility."
The release continues, "Volocopter and NEOM have agreed an initial order of 10 VoloCity passenger and 5 VoloDrone logistics aircraft to support early activation of flight operations. The joint venture will scale-up its activities from the beginning of 2022 to incubate urban air mobility (UAM) in the region and seed a vertical mobility ecosystem."
Christian Bauer, CCO of Volocopter, enthused, "The partnership with NEOM is a once in a lifetime opportunity to be an essential part of designing and operating a completely new UAM ecosystem from the ground up without the constraint of legacy infrastructure or regulation."
Vertical mobility services are to connect NEOM's core urban development THE LINE, reimagined industrial city OXAGON and other regional destinations, avoiding intrusive road construction and thus protecting its unique natural environment.
Footnote
NEOM is to be the first true futuristic city "built from scratch" with a mobility system powered by 100 percent renewable energy, integrating smart infrastructure and advanced transit systems to overcome the car-centric city. This includes autonomous shuttles, electric boats, personal eVTOLs and solar-powered mobility hubs.
The project is located in Tabuk at the far north-west of Saudi Arabia.  It will cover a total area of 10,200 sq miles and extend along the coast of the Red Sea. Saudi Arabia aims to complete the first section of NEOM by 2025. The project has an estimated cost of USD500 billion.
Eat your heart out Roger Dean!