By Chris Stonor
A new and ground-breaking anti-littering campaign was announced this week, supported by McDonald's and the company's key suppliers, employing drone technology and AI, reports hubbub.org.uk.
The aim is to assist the South Coast Bournemouth, Christchurch and Poole Councils (BCP) tackle litter during what is expected to be a very busy summer period as lockdown restrictions ease.  Under the strapline 'Leave only Footprints' the project will use the most advanced "litter survey" ever undertaken to purge UK streets.
This innovative approach will see intelligence gathered from drone data "to inform the future placement of bins, street cleansing schedules and change campaigns" to encourage people to dispose of their litter responsibly.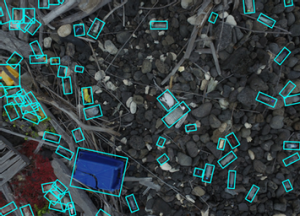 Litter Viewed by a Drone
Due to funding from McDonald's and its suppliers,  cutting-edge technology can identify and categorise individual pieces of litter which offers unprecedented insight into  what types  are being dropped, where and when.
The campaign will deploy drones, fixed cameras and mobile and vehicle technology  in public spaces to  create detailed "litter maps", identifying hot-spots, to form an understanding of  how the trash travels. The approach, developed by technology start-up Ellipsis Earth, was  used in the Italian town of Sorrento last summer, where it was hailed a huge success, enabling authorities to reduce litter by 45 percent and cigarette butt waste by 69 percent.
Insights into littering behaviour  are vital to make the most of the  considerable budgets invested by councils up and down the country to tackle the scourge of litter. The BCP alone invests over UKP1 million a year. This summer the councils will be able to use  intelligence from the monitoring to inform the strategic placement  of bins and street cleaning schedules. Hubbub will then use this data to develop a range of behaviour change interventions  encouraging the public to dispose litter  responsibly.
The first drone flights took place last week during a period when the majority of  lockdown restrictions were in place  to  show  how clean streets, parks and beaches can be if we care for the local area. The audit will be repeated  in  May  when  the area  will  become busier as the weather improves and lock down restrictions ease.
This data will inform a series of litter-busting interventions  over the course of the summer and a  further survey will take place later on to assess the effectiveness of the actions taken. The data collated by Ellipsis Earth will play an important role in the development of BCP's long-term strategy.

Litter from a Drone's Viewpoint
McDonald's has been carrying out litter patrols in communities for nearly 40 years and view this intervention as a significant step-change using high quality data to not only make clearing litter more impactful, but to  help improve behaviour and encourage those people who do litter to act more responsibly.
For the BCP Councils the campaign improves summer preparations to ensure beaches, town  centres, parks and open spaces are prepared for both locals and visitors. This already includes tripling the size of bins to deal with the additional waste and putting in place more daily collections, with manual crews on standby when the locations such as the promenade become busy.
For more information
https://www.ellipsis.earth/identify
(News Source: https://www.hubbub.org.uk)