By Chris Stonor
For anyone interested in "a flutter" or investing thousands in the nascent but growing drone delivery industry, this six-page report is an important part of your research.
Ark is, of course, overseen by the midas touch investor of the moment, Cathie Wood. In January, she made waves across the investment world after announcing her latest venture ARKX, a Space Exploration Exchange Traded Fund (ETF), conveniently formed just before NASA's recent landing on Mars. In this latest report, six pages from a much larger general market overview is devoted to research on the drone delivery industry.
Read UAMN article on ARKX:
https://www.urbanairmobilitynews.com/market-analysis/drones-and-evtols-part-of-new-ark-invest-arkx-space-exploration-fund/
Wood is enthusiastic about the industry's future, stating, "While not yet commercialised, ARK estimates that drone delivery platforms will generate nearly USD50 billion in revenues, USD14 billion in hardware sales, and USD3 billion in mapping revenues by 2025.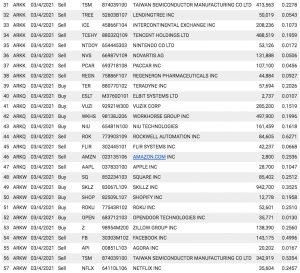 Insight into ARK's Fund – some different shares bought and sold on March 4th
List of Drone Stocks For Share Purchase:
https://lastfuturist.com/top-drone-related-stocks/
Read research report
 https://mira.aero/pdfs/Drone_market_research_by_ARK_2021.pdf