By Chris Stonor
A new market research study published this week by Global Industry Analysts (GIA) entitled "Drone Transportation and Logistics – Global Market Trajectory & Analytics" suggests this particular market could reach USD37.9 billion by 2026, reports a press release.
The release says, "The report presents fresh perspectives on opportunities and challenges in a significantly transformed post Covid-19 marketplace." 43 companies were covered across all major geographies and key segments including Airbus, DDC, Matternet, Flirtey, Volocopter and Zipline.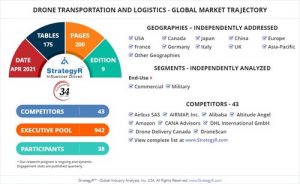 GIA commented, "Drone transportation and logistics estimated at USD12 billion last year is projected to reach a revised size of USD37.9 Billion by 2026, growing at a CAGR of 21 percent over the analysis period."
And continued, "The commercial aspect, one of the segments analysed in the report, is projected to record a 22.1 percent CAGR and reach USD33.6 billion by the end of the analysis period. Growth in the military segment is readjusted to a revised 18.3 percent CAGR for the next 7-year period."
The U.S. market is estimated at USD4.4 Billion this year, while China is forecast to reach USD6.5 Billion by 2026 trailing a CAGR of 20.1 percent over the analysis period. Among the other noteworthy geographic markets are Japan and Canada, each forecast to grow at 19 percent and 18 percent respectively over the same period. Within Europe, Germany is forecast to grow at approximately 15.3 percent CAGR.
For more information
https://www.linkedin.com/company/global-industry-analysts-inc./
https://www.strategyr.com/market-report-drone-transportation-and-logistics-forecasts-global-industry-analysts-inc.asp