By Chris Stonor
McKinsey & Company, a leading global Management Consulting firm, pushed the boat out this month by employing four different research experts to scrutinise the nascent eVTOL/STOL/CTOL market.
While excited by the present growth there is a proviso: The company says, "The influx of eVTOL aircraft orders in 2021 is impressive, but manufacturers should not celebrate just yet." Isn't that what management consultants are paid to do – "to err on the side of caution?"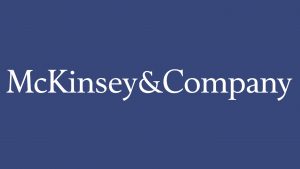 The report states, "The first nine months of 2021 saw a huge volume of activity for future air mobility (FAM) manufacturers. Orders and options for more than 5,800 aircraft were placed between January and early October, totaling USD20.2 billion. That far outpaces the volume for conventional aircraft during the same time period (554 orders and options total, or 10 percent the volume of FAM)."
And goes on, "Before manufacturers pop the Champagne, however, they should consider some historical precedents. In past periods of disruptive innovation in the industry—such as the advent of supersonic aircraft and the early days of the very light jet—many early orders and options were never filled."
After drilling down on the numbers, the researchers point out, "To be clear, large demand volume is a positive for the industry. Orders and options serve as an important signal of demand to manufacturers and suppliers, and they give companies valuable credibility in the eyes of investors. Yet this demand is not ironclad."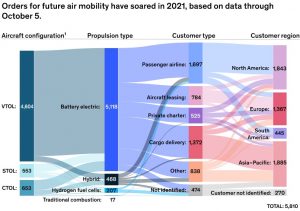 The report rightly says, "Of the USD20.2 billion in total FAM demand this year, about USD4.8 billion are options, which buyers can walk away from with no financial or legal consequence. (They simply don't exercise the option to buy.) The remaining USD15.4 billion (approximately 75 percent) are traditional orders, but these are also far from certain. Many of these are non-binding and have a broad range of requirements attached to them to become binding." And continues, "Furthermore, almost none have any kind of down payment associated with them."
The summary ends with a sobering caution: "The bottom line: A fast build-up of demand is an encouraging sign. But the only metric that truly matters will be final delivery of certified aircraft."
No-one likes a party pooper, but McKinsey makes a valid point.
Read the Full Research Report
https://www.mckinsey.com/industries/aerospace-and-defense/our-insights/future-air-mobility-blog/taking-stock-of-the-rapidly-growing-future-air-mobility-order-backlog
For more information