By Chris Stonor
Another day, another drone and eVTOL report. The latest comes from Pitchbook entitled "The eVTOL Air Taxi Start-up Handbook".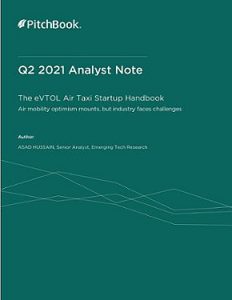 The report's findings include:
In the first quarter of 2021, investors "poured a staggering" USD3.8 billion into eVTOL air taxi startups such as Joby Aviation, Archer, and Lilium, largely through SPAC mergers and concurrent PIPE deals. Investment in Q1 2021 marks more than triple the USD1.1 billion invested in all of 2020.
Forecast for the global air taxi passenger mobility market is to grow from a burgeoning USD1.5 billion in revenue in 2025 to USD150.9 billion in revenue in 2035. eVTOL aircraft have major operating cost advantages over helicopters and could make passenger air mobility affordable to the masses.
Timeline expectations may be inflated as investors underestimate the complexity and capital cost of certification, as well as the technological, regulatory, and infrastructure-related hurdles required for mass adoption.
Well-capitalised start-ups with established manufacturing partners are poised for success, while a shakeout may be in the cards for many of the 100+ new companies developing technology in the space.
There is an opportunity for early-stage VC investors to back "picks and shovels" enablement technologies, such as mobility services, autonomous autopilot, and engineering analysis tools.
Download the Report
https://pitchbook.com/news/reports/q2-2021-pitchbook-analyst-note-the-evtol-air-taxi-startup-handbook