By Chris Stonor
Drone Rescue Systems, based at Graz in Austria, has developed intelligent smart parachute systems that deploy themselves in an emergency and bring a damaged drone safely to the ground, reports dronerescue.com. Until recently, only civilian users were interested in such systems, but gradually they are moving into the domain of the military as well as governmental users in the security sector.
Andreas Ploier, Managing Partner of Drone Rescue Systems, explained, "The advantages of the systems are the many interfaces and integration possibilities. We can currently offer solutions for almost all drones with a MTOW between 2kg and 25kg. Furthermore, we have developed model-specific parachute systems for a number of DJI drone models."
Customised systems have been available since 2016, but the first standard system was launched for the DJI M600 in 2018. Ploier continued, "We offer numerous integration and interface options, so that our parachute systems can be easily adapted and integrated to almost all types of drones."
A majority of the drones in use today are in the field of aerial photography and surveillance with delivery drones now on the increase. And why it is so important to protect the craft and their costly payloads from crashes and to ensure the flight system and payloads can be used again after an accident.
Ploier explained, "For example, when monitoring major events, demonstrations and similar large-scale gatherings from the air, security agencies want to avoid an incident involving crowds of people. In the event of an incident, our parachute systems ensure a safe, controlled landing without putting people in danger," In military applications the focus is on securing the payload in the event of an accident and Ploier points out,  "It is precisely through the controlled landing of drones that they can be recovered quickly."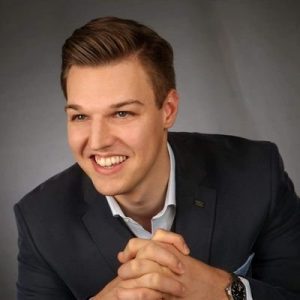 Andreas Ploier
In addition to a carbon cage in which the parachute is stored, the rescue systems consist of intelligent electronics that monitor the drone's condition independent of flight control. Every effort has been made to ensure the intelligent parachute does not reduce the drone payload capacity, flight time or range. Ploier added, "We want to ensure that even in an emergency Beyond Visual Line of Sight, the drone can be safely intercepted."
An algorithm merges the sensor data, thus implementing automatic crash detection. In an emergency, the pilot no longer has to react and press a release button, as this is often not an option, for example if the radio connection fails.
Drone Rescue Systems is involved in various research projects both nationally and internationally and is working with the German Aerospace Center (DLR) on innovative projects such as the FALCon project, which focuses on cost-efficient and environmentally friendly satellite transport.
The project is about finding ways of capturing rocket parts in the air after a launch, so they can be reused via a system called "a Rocket Catcher."
For more information
(News Source: https://www.airmedandrescue.com/welcome)