By Chris Stonor
The North Carolina General Assembly (CGA) has awarded AeroX a USD5 million grant to design and develop an urban Advanced Air Mobility (AAM) program in Winston-Salem and Forsyth County, reports a press release.
The funds will be allocated to AeroX through the North Carolina Department of Transportation Division of Aviation, which oversees state and federal aviation grant funding for NC and has been a national leader in demonstrating and enabling government and commercial use of unmanned aircraft systems (UAS).
AeroX Transport
Michael Baughan, AeroX Chairman of its Advisory Committee, commented, "Once again, North Carolina policymakers have taken the bold move to invest in aviation's next frontier. The funds will help us begin building the infrastructure required to usher in this new era of aviation, supporting existing industries and opening up whole new areas of the economy."
The NCGA grant assists AeroX in building the air traffic management system that allows unmanned and manned aircraft to fly safely in the low-altitude air space (below 400 ft) in which UAS operate.
Forsyth County is well positioned to achieve this goal. Routine commercial drone deliveries are already under way in the county by UPS Flight Forward, which is delivering medical packages across the Atrium Health Wake Forest Baptist Medical Centre campus, while Novant Health is conducting AAM operations in North Carolina and providing guidance as a member of the AeroX board.
Also, the local Smith Reynolds Airport is a Federal Aviation Administration-designated national airport ideal for testing AAM solutions.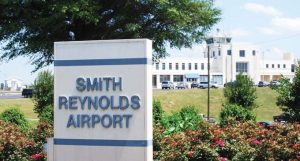 Footnote
AeroX is a non-profit organisation of business, government and community partners focused on facilitating the safe and efficient commercialisation of UAS technologies in Forsyth County. It aims to capitalise on North Carolina's prominence as a UAS innovation.
For more information