By Chris Stonor
Prison authorities are fighting off an aerial invasion by drones being deployed to smuggle drugs and other contraband into Australian Victoria's jails during the Covid-19 lockdown, reports theage.com.au.
The article says, "Airdrops, containing packages of pharmaceutical-grade narcotics and street drugs such as heroin, have kept the jailhouse drug market alive after a ban on face-to-face visits in March cut off the most common supply route."
And goes on, "Corrections Victoria received 97 security incident reports from prisons about remotely piloted vehicles from March to early November, up 246 percent compared to the full year before Covid-19 struck."
Prison authorities were ill-prepared to counter the high-tech threat and have scrambled to install drone detection equipment at five of the prisons considered most at risk. Documents obtained by The Age show drones have got through prison defences that rely on manual observation by patrolling officers as well as CCTV. One incident report, released through the freedom of information, shows authorities even failed to detect a drone incursion during daylight hours.
 A report from July stated, "A review of CCTV footage showed a drone in the sky carrying a package before releasing it. Prisoners can then be seen searching within the area, with one retrieving the item."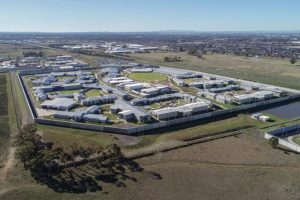 Ravenhall Correctional Centre close to Melbourne
Another smuggling run was detected a few weeks later, only because of a tip-off. A report said, "Information from inside the jail explained a drone had been used to drop heroin and buprenorphine off to a prisoner. CCTV was reviewed and the prison management informed."
There have been close to 100 drone-related security incidents including sightings, interceptions and intelligence reports about planned or suspected deliveries sourced from informers and wiretaps of inmate phone calls concerning Victoria's prisons.
This surge in drone-related activity is attributed to the pandemic lockdown imposed across the Australian prison system in March. The black market for drugs, tobacco, mobile phones and other contraband is often supplied by inmates' relatives, friends and criminal associates who pass over contraband during visits.
While the first suspected drone incursion at a Victoria prison occurred in 2014, it only became illegal to operate a craft near a jail four years later. Until recently Corrections Victoria (CV) did not consider the threat serious enough to warrant deploying specialist anti-drone technology.
In a bid to close the security gap, CV has installed drone detection and tracking equipment for five of the state's prisons a few months ago. This AUD422,000 contract for five stationary devices and one mobile unit was issued as part of the state government's Covid-19 emergency response program. According to the manufacturer, the units can track drones up to 50 kilometres away and identify the operator's location.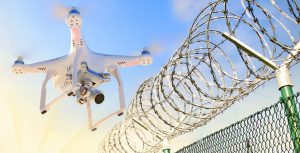 The new technology enabled officers at Barwon Prison to foil an airdrop containing drugs, a knife and a USB device last month. The incident is now under investigation by Victoria Police.
While, the lockdown has caused a 78 percent decrease in the number of positive tests for illicit drugs among inmates, seizures from searches and intelligence reports show drugs such as amphetamines, ice, heroin and pharmaceutical-grade narcotics continue to enter the prison system. A CV report stated, "We have seen an increase in the number of attempts by prisoners to introduce contraband through the mail and over the prison walls."
While it is unclear how much contraband has been smuggled in by drones since the March surge, a recent interception at a New South Wales jail shows volumes carried by a drone can be significant, with one payload containing hundreds of opioid patches and pills worth at least AUD100,000.
Visual presentation
https://www.youtube.com/watch?v=8qqd-pidjPY
For more information
https://www.corrections.vic.gov.au
(News Source: https://www.theage.com.au)