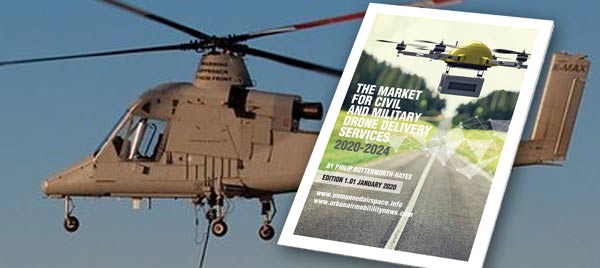 This carefully researched market analysis and forecast report is aimed at manufacturers, IT services suppliers, operators, logistics organisations, local authorities, regulators and other stakeholders who want to understand current and near-future capabilities, market values, investment opportunities and enablers/obstacles to one of the fastest growing sectors in the aviation industry.
It provides insights and analysis not found elsewhere, with a comprehensive, global view of where the fastest progress is being made in bringing these new concepts and technologies to market.
Contents
Introduction
Part one: The current market
The drone delivery market – an overview of current activities worldwide, describing, in a country-by-country analysis, of the current drone/unmanned air vehicle logistic supply operations underway by military and civil operators. It will also describe key technical, industrial and regulatory trends in each country.
Detailed case studies – including RPAS delivery operations in the US military, last-mile battlefield delivery programmes worldwide, industrial parts delivery programmes, Drone Delivery Canada's operations, retail delivery programmes, aid agency delivery operations in Africa, cargo airline and parcel delivery company drone operations, urban and suburban commercial delivery operations in North America, Australia and Europe, inter-hospital medical deliveries in Europe, manned helicopter conversion programmes.
Part two: An industry index
Drone delivery platforms
Drone delivery platform propulsion systems
Drone delivery flight control, navigation, safety systems
Drone delivery support services – flight management systems, cargo containers and delivery systems, ground infrastructure
Regulatory impacts – current and planned local, national and international regulations and standards
Part three: Market forecast broken down into geographic regions and by the following sub markets
Building on the current map of drone delivery activities and using a bottom-up approach to assess market values and likely technology/regulatory developments, the report gives readers forecast values and highlights for the following domains
Sub-markets
Military and security transport
Medical deliveries
Commercial deliveries of post, parcels and food
Industrial parts deliveries
Retail deliveries
Market sectors
Platforms
Control systems, sensors and avionics
Operating infrastructure – launch, landing sites, charging
UTM
The report will be published in January 2020 and will cost £680.00 for a single issue, or £900.00 for an annual subscription which includes an update edition in July 2020. For more information please contact the editor Philip Butterworth-Hayes